At the invitation of the Flamingo Hotel, we took in the new edition of "The Second City" improv comedy show the other evening. The cast of quick thinking comedians were pretty darn sharp - especially during the real un-scripted interactive improv showcase which opened this particular evening. Under normal circumstances, this truly improv session is the 10 p.m. show on Saturday nights.
I presume the Saturday show is similar to what we saw in preview, and if so it's well worth attending. A member of the cast comes out and explains what is going to happen, then asks for a bunch of various things such as: name a song... what would you say to your boss... name a Broadway play... name a crime movie. I think you get the idea. Then he (or she) calls out the cast (this evening they used three members) and they begin to improv. They have a premise of where to start and then the rest is determined by the little pieces of paper tossed randomly on the stage (the audience words), when he or she picks one up, it can completely turn the conversation around: Say they are discussing a divorce and she picks up a paper and it says "Take This Job and Shove it." Right away she says I quit my job this morning and they're off and running. Each piece will change the subject. It's pretty clever and the brief preview we got to see I really enjoyed.


The scripted show, which is presented nightly at 8 p.m. (except Wednesday) with additional 10 p.m. shows on Thursday, Saturday and Sunday, is a showcase of each member of the cast and their respective talents. The current cast of The Second City - Las Vegas includes Rob Belushi (who just happens to be the son of Jim Belushi), Michael Lehrer and Robyn Norris (veterans of Second City touring company). Katie Neff is in her second show at the Flamingo, and Paul Mattingly is a graduate of The Second City Training Center in Las Vegas.
Belushi follows in some big footsteps, what with his famous father and his equally famous uncle, John Belushi who died in 1982. The 26-year-old standup comedian does not disappoint either. Jim joined the cast of The Second City in Chicago in 1977 and honed his skills for the next three years - and it appears that his son will be honing his skills here in Las Vegas.
For a fun evening at a reasonable price I would say take in The Second City Improv show at the Flamingo Hotel. For reservations call (702)733-3333.
The original Mint 400 can never be duplicated, we know that. What S.N.O.R.E. (Southern Nevada Off Road Enthusiast) is trying to do is bring back those glory days that began in 1968. It'll never happen, gang, for one simple reason - history can not be re-written! The Mint 400 Off-Road Race was declared a classic event before the final race car had crossed the finish line by none other than Chris Economaki, considered the "Dean of American Motorsports." That will not be repeated!
Last week I told you about the 1939 Chevrolet Coupe that was entered in the first race. Now I have another funny one for you. The course took the race cars and motorcycles through some of the roughest country in Nevada - Sandy Valley, Ash Meadows. (then a famous Nevada Brothel), to Beatty before turning back and returning to Las Vegas. There were 101 entries for the first race, including NASCAR race car driver Mel Larson (who went on to direct the race until 1973) and Indy 500 Champion, Parnelli Jones. The race got underway and reports kept coming in all afternoon and into the night from various locations that racers were lost; that a particular car had crashed and the driver was injured; this or that car had rolled over; cars and motorcycles were seen racing on the highways; and Jones had destroyed his Ford Bronco at five different locations. It was, in all honesty, confusion at its glorious best.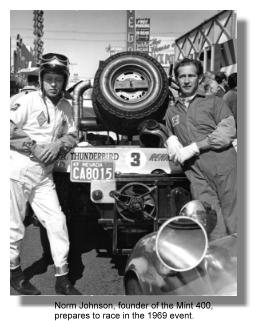 Now cut to the banquet where checks and trophies were being handed out. Just as Mr. Bill Bennett (at that time the general manger of the Mint Hotel) was announcing that there would be a second Mint 400, two men entered the room. They were dirty and greasy from head to shoe, but they had a smile on their faces that would light up any room. "We finished... we finished," they yelled. Everyone in the banquet room stood up and applauded and yelled. Yes, they had finished, but it took them like 38 hours to do it!
That's what will be missing this time around. History is important to Las Vegas and I applaud S.N.O.R.E. for trying to bring the famous race back to downtown Las Vegas. But, to be honest with you, I'm a wee bit ticked off because my health will not permit me to drive a lap in the race - like K.J. Howe, the lucky stiff! Howe is also part of the history, as is Mel Larson and all those racers who competed in the Mint 400 for 20 years.
That's it for this week. Remember, actual race activities begin Thursday, March 27, with technical inspection, etc., downtown (just like the old days) on Fremont Street east of the Canopy, with the actual race starting Saturday, March 29th.
I'm outa here!

CONTINUE ON TO...:
>It's The Norm Article Archives
>Las Vegas News - "Heard Around Town"
>Las Vegas Leisure Guide