What do "Wheel of Fortune's" Vanna White and "Wonder Woman" Lynda Carter have in common? They both hold the distinct honor of being a Miss Mint 400 winner. And, Mad Media (owned by Matt and Josh Martelli), along with sponsor General Tire, is preparing to crown the new 2012 Miss Mint 400 in advance of the famed General Tire Mint 400. This year's Miss Mint 400 winner will earn a $5,000 cash prize in addition to other prizes, national exposure and a professional photo shoot.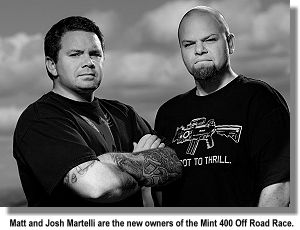 As of Monday, more than 800 had sent in their photographs from around the nation, it was announced at a press conference held by the new owners of the race, the Martelli brothers. ""Of course these are being narrowed down to a final group, with the eventual winner crowned on Thursday, March 22, from the final three," Matt Martelli said.
"The Miss Mint 400 competition provided a great platform for me to expand into more and more spokesperson roles," said Keli Snyder, 2011 Miss Mint. "The opportunity to be part of such a historic event was certainly a huge honor for me."
The 2010 Miss Mint 400 winner, Ali Kossler, also used the Miss Mint competition to help expand her career.
"I really enjoyed my time as Miss Mint 400," said Kossler. "To be named with women like Vanna White and Lynda Carter is a big distinction. I know having the Miss Mint 400 title in my portfolio has helped me secure numerous modeling jobs over the last couple years. I'm very thankful for the opportunity that was presented to me."
This year's contest was open to women 18-years-of-age and older who are legal residents of the fifty U.S. states and the District of Columbia (void in New York, Florida, Rhode Island, and U.S. territories and possessions, including Puerto Rico, and where prohibited). The contest ran through March 15.
Entrants are now being narrowed to the top 10, and those 10 will make it to the second round of competition. Judges will select three finalists who will attend the crowning ceremony, where the 2012 Miss Mint 400 will be announced.
Started in 1967, The General Tire Mint 400 is steeped in American lore, as thousands of racers, as well as celebrities from around the world, have attempted to tame the brutal Nevada desert. Known as "The Great American Off-Road Race," The Mint 400 is an epic battle between some of the top off-road racers in the world in more than twenty-two different classes of off-road vehicles. An entire week of events lead up to the famed off-road race in and around Las Vegas, including a vehicle parade, drivers meet and greet, pit crew contest, crowning of Miss Mint 400, multiple parties, qualifying, and contingency and vehicle tech inspection. The public are invited to come and spectate and party!
During the press conference, held at the Golden Nugget Monday morning (March 12), Josh Martelli announced that the entry list had been closed at 325, at the request of the Bureau of Land Management (BLM). "We have another hundred on a waiting list," Martelli said.
Everything gets underway on Wednesday (March 21), with a special parade at 7:30 p.m., under the canopy of Fremont Street, consisting of the "Trick Trucks," and a few other special race vehicles. The parade will be followed at 8:30 p.m., by a "Trick Truck Pit Crew Challenge" at 3rd and Fremont. The evening ends with a Kick Off Party at Insert Coins beginning at 9:30 p.m.
TOP OF NEXT COLUMN
Thursday will see time trial registration for special vehicles, at the Plaza Hotel & Casino, from 8:30 – 10:30 a.m. This will be followed by a practice session at another location, beginning at 11:30 a.m. Fremont Street East (Las Vegas Blvd. to 8th street) will be buzzing, beginning at 5:30 p.m., with a Meet and Greet session consisting of drivers and sponsors. A La Paz Margarita Mix Mint 400 Party will get underway inside the Golden Nugget at 8 p.m., where time trial results will be revealed, and the crowning of the 2012 Miss Mint 400 will take place.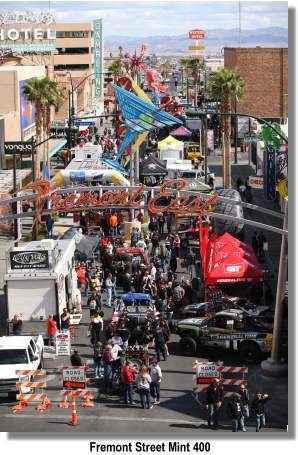 Driver registration will take place on Friday, beginning at 9:30 a.m., at the Plaza Hotel, inside the ballroom, located on the third floor of the hotel. Fremont East will be filled with contingency sponsors where the 325 entries will pass along as they head to the final technical inspection area. All vehicles must undergo this inspection or they don't race. "Safety is foremost on our minds during the inspection," Casey Folks, owner of Best in the Desert Racing(BITD), who is responsible for the actual running of the Mint 400, said. "We inspect each vehicle for conforming to specific rules for the class in which they are competing. It's a very intense inspection," Folks added.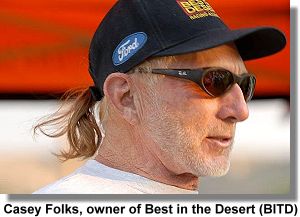 The actual race will get underway Saturday, March 24, at Jean, Nevada, with a two-lap race for limited vehicles at 6:00 a.m. The main group of racers will hit the desert at Jean, with staging beginning at 11:30 a.m., and the first vehicle getting the green flag at 1:00 p.m. There will be an After-Race Party on Fremont Street beginning at 8:00 p.m. The Awards brunch will take place on Sunday, from 11:30 a.m. to 2:00 p.m., at the Golden Nugget.

Folks Company has created special spectator areas where the general public can watch the race, free of charge. "We ask that the public use these areas, and these areas only, as the BLM will be enforcing the law with tickets if you are found in a non-spectator area," Casey said.

THIS AND THAT QUICKLY:

Just a reminder that our buddy, comedian Cork Proctor, will be performing this Saturday, March 17, at the Railroad Pass Hotel & Casino. Proctor, who turns 80-years-young in November, will be performing his classic "Things I remember about growing up, and living in Las Vegas" routine beginning at 7:30 p.m. Tickets, which include all fees and one beverage, are only $20.00, and may be purchased at the casino cage. The first 50 purchasers of a ticket will get a special CD of Proctor doing his famous stand-up routine.

Well, gang, I'll see you Saturday night and hopefully sometime on Fremont Street next week. I'm outa here!


CONTINUE ON TO...:


>It's The Norm Article Archives
>Las Vegas News - "Heard Around Town"
>Las Vegas Leisure Guide