Well, gang, the "Boys of Thunder," have come and gone. They left behind a bunch (about 275,000) happy race fans, who gathered at the Las Vegas Motor Speedway, starting last Friday March 4th. The crowd on Sunday, alone, was estimated at a tad over 150,000 for the NASCAR Sprint Cup Kobalt Tools 400, won by Carl Edwards. The "Grand Ol' Man" of NASCAR, Mark Martin, wrapped up the weekend with another checkered flag, winning his fourth NASCAR Nationwide series Sam's Town 300 race, at the speedway Saturday.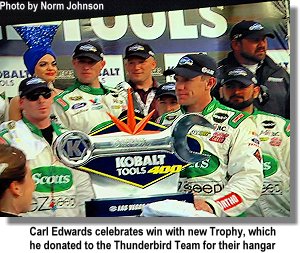 Danica Patrick has sent a lot of skeptics and believers talking, and scratching their head, with her fourth place finish in the Nationwide race, making her the only women driver in the history of NASCAR to finish in the top five, of one of the three top tier races in the sport. "I'm really not out to break records," Patrick commented after the race. "I'm out to win! And, should I break a record or two doing it, then that's great. But I'm learning more and more every day."
In setting a record of enormous crowds, the television audience also broke a record, with an outstanding 29 percent increase in viewers watching Fox-TV, over 2010. Fox reported a 5.3 overnight rating, compared to the 4.1 record set in 2010. Jeff Wolf, who writes an excellent motor sports column in the Las Vegas Review-Journal, mused over the good and bad of getting a second NASCAR race at the speedway. I hope you read it, as it was, in my opinion, right on. Would a second race, at or near the end of the season, hurt the March race attendance? Let's put it this way: Would you rather have 150,000 on a single Sunday (with the vast majority being visitors to the village), than have two races with a total turnout of 225,000? I'm not too sure the second race would bring a huge visitor crowd, not right now with the economy like it is. Budgets of the average working man can allow for one trip to Las Vegas, but I question if they could afford both events. From what I understand, a couple flying in for the race, staying at a nice hotel for four nights, food for five days, tickets to the races and transportation while in town, averages about $2,000. Now add a couple of kids and you get the picture. And, of course, that does not include playing a little at the slot machines or the tables. Getting that second race would be terrific for us oil heads, for NASCAR and our village. But, will it work out for everyone as envisioned? Just thinking aloud.
THIS AND THAT QUICKLY:
This spring, it's champagne and stunning sunsets for Papillon Airways, Inc., which now offers new tours, each designed to give the ultimate in personalized service by enabling guests to book private flights from McCarran International Airport's Papillon terminal.
The tours showcase the grandeur and beauty of not only the Grand Canyon, but also the Las Vegas Strip. Guests will receive round-trip complimentary limousine service from most major Strip and downtown hotels. This accentuated with Papillon's true, personalized service.
"High rollers, families, brides and grooms – these are the guests who will love this service. They asked for this service and we provided it," Robert Graff, vice president of marketing, said. "This is the ultimate in customer service for guests wishing to experience the Grand Canyon and be away from the crowds. We're able to take any special occasion and make it that much more special." If interested call 1-888-635-7272.
International recording artist and World Champion Pianist, Ryan Ahern, has brought his high-energy show "Piano! Las Vegas," to the Las Vegas Strip, and is appearing at the V Theater inside the Miracle Mile Shops at Planet Hollywood Resort & Casino. Ahern, with his mesmerizing hand speed and unique song arrangements, continually captivates audiences through his exciting and diverse piano styling that features every genre from Rock to Broadway to Boogie Woogie. The show plays Saturday– Thursday at 2:30 p.m.
A wonderful lady, and I can truthfully say a friend, Deana Martin (daughter of Dean) is opening at Feinstein's at Loews Regency in New York City, March 13-14. Now, as you know, I very seldom write about events taking place very far from my village (Las Vegas). However, because Deana is doing it, and knowing she has a ton of friends locally, I felt I should let everyone know.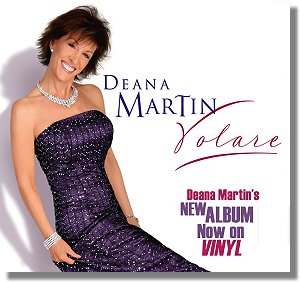 Feinstein's, the nightclub proclaimed "Best of New York" by New York Magazine, and "an invaluable New York institution" by The New York Post, continues its Winter 2011 season with the return of Deana Martin in "Deana Sings Dino" - a tribute to her father, Dean Martin. Deana takes the audience on a musical journey through the career of her legendary father and other great performers who shaped American music and popular culture for over four decades. She performs many of her father's most enduring hits from "Memories Are Made Of This" to "That's Amore" to "Everybody Loves Somebody," as well as hits of her musical family, including "Uncles" Frank Sinatra and Sammy Davis Jr., plus Judy Garland, all the while sharing a look into Dean's life by way of her personal anecdotes, and a video montage comprised of rare never before seen home movies and private photos.
"What I do in my concerts, is I have a video playing with beautiful photos of growing up with my Dad, and I duet with him (live) on 'Welcome to My World,'" Deana explains. "You hear my father sing, 'Welcome to my world,' and then I come in. It's a beautiful, beautiful moment."
All performances are at the Regency Hotel (540 Park Avenue at 61st Street). For ticket reservations and club information, please call (212) 339-4095 or visit online at www.feinsteinsatloewsregency.com or TicketWeb.com.
A week from this Wednesday, on March 16, Bill Acosta, one of the good guys and a great entertainer, is scheduled for elective brain surgery called DBS (Deep Brain Stimulation). He will be awake but only for a portion of the procedure.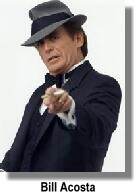 As you may or may not know, Acosta was diagnosed with Parkinson approximately 5 years ago. I was fortunate to see him perform his last show at the South Point Hotel & Casino, and he was terrific. Bill is looking for some quality of life back, which this surgery should provide that for him, according to his doctor. The implant will enable him to control his tremors.
Surgery will take place at Sunrise Hospital and Bill will recoup, with the help of his two kids, at the home on Westwind. His son Michael will be flying in from Chicago, to also help him through the recovery process. Acosta should return to the hospital within a week, for an outpatient procedure, to have his battery pack implanted. With lots of prayers, and the skill of Neurosurgeon, Dr. James Forage, approximately 6 weeks after he has had time to heal, his Neurologist Dr. Charles Bernick will "turn him on" This will enable him to control the tremors.
For those who'd like to contact Bill Acosta his email is: Billsvoice4@yahoo.com.
Well, gang, that's about it for this week. I'm outa here!
CONTINUE ON TO...:
>It's The Norm Article Archives
>Las Vegas News - "Heard Around Town"
>Las Vegas Leisure Guide<