Well, gang, the "Boys of Thunder" have come and gone and left behind a lot of cash. The racing was terrific and everyone left the speedway (drivers) with good feelings about the three days of racing - except for a couple of guys.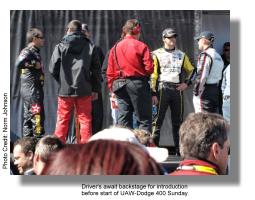 Jeff Gordon, who caused his own wreck, was one of those who complained about the track walls. Heck, those walls have been there for the past 11 years and he never complained about them before. Now, all of a sudden, he wants the track to install safety-barrier walls on the back stretch (inside walls) because he hit it so hard it shook him up.


He is not the first race driver to hit that wall, nor will he be the last. Good Golly Jeff, quit complaining when you get shook up a little. If the late great Dale Earnhardt was still alive, he would be telling Jeff to grow up. "It's racin' buddy!"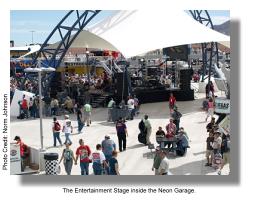 But, let's face it; the opening in the wall is both a safety feature and a detriment. If they had to unlock a metal, or even concrete gate, to let the emergency vehicle out on the track (possibly to save a life) and it added minutes, that could be dangerous too. So, the track is between a rock and a hard place. The safety-barrier walls are not a problem I'm sure. But what to do with the opening? Knowing Bruton Smith (owner) and Chris Powell (G.M. & V.P.) they will resolve the problem.
Now on to a fun thing that I did last Saturday. At the behest of my lady, Nancy Barr, I attended a high school play. This is very possibly the first high school play I have sat and watched since I did so about 37 years ago. I'm guessing at that too. Anyhow, Nancy's friend, Cindy Campbell, has a son who was part of the cast for "Grease." I promised both ladies that I would attend the play in the Del Sol Theatre at Del Sol High School last Saturday. Then, when I found out an old dear friend, Helen Sax, was directing the play, I knew I had to go. Cindy's son, Brandon Green, was playing the part of disc jockey Vince Fontaine and also a member of the T-Birds (the gang).
The part of Betty Rizzo, one of the big leads and a Pink Lady, was played by Jasminn Gray, who I honestly believe has "star quality." Her voice and stage presence was right on throughout the nearly 90 plus minutes. The staging and costuming was terrific. The scenery was neat, but not fancy, but it worked! Danny Zuko (leader of the T-Birds) was aptly portrayed by another terrific young man, Julian Maynard. The Pink Ladies had a number of outstanding actors, including Karie Miller (Sandy Dumbrowski) and Jan as played by Jasminn Gray. The T-Birds were terrific and Justin Burems (Doody) was what you would call perfect casting. It's very hard to pick out one or two young performers from a fabulous cast, because each person on that stage was giving their heart and soul to the play. And, they were very well directed by Ms. Sax. The choreography by Anthony Pecora was excellent (and fun for the actors). The six piece band, under the direction of Jorge Lopez, consisted of: keyboard, Dom Lacala; percussion, Chris Dye; tenor sax, Tayiib Dauda; bass, Vaijayanthi Vaidyanthan, and on guitars were Budway Ferris and Jon Watrous.
My final thoughts on the subject of young actors in any high school play-we have an abundance of future actors coming along very nicely, thank you. It takes people like Ms. Sax, Lopez, Pecora and parents to bring the talent out or let it out. But, it takes the youngster to want to do it! Thank God we have it all going in our local high schools.
THIS AND THAT QUICKLY: I mentioned that this writer was going to be a "featured artist" in the 11th Annual ArtFest of Henderson in May. Another fine teacher and artist, Teresa Testa, will also be featured with her fine porcelain sculptors. It all takes place on Water Street and in the Convention Center, May 10-11. I am truly excited and am working on a new piece (in clay), and hope to be able to display the model at the event... Wayne Newton will be in Laughlin, Nv. on Saturday, March 15th at 8 p.m. in the Aquarius Casino Resorts Outdoor Amphitheater. Others set to play at the Aquarius include Travis Tritt (March 29), Trace Adkins and the Pointer Sisters to name a few... Blue Man Group were again a big hit all weekend at the Las Vegas Motor Speedway (inside the Neon Garage area and Sunday at the start / finish line... Will be taking in a sneak preview of Tony Pace's "Up on the Roof" this Friday at the Greek Isles, and also attending the benefit for The Center for Homeless and Neglected Youth at the Stirling Club where Mason-Dixon will launch their new CD from 6 to 9 p.m. Busy night. We will report on both of those events as well as the opening of Wolfgang Puck's new restaurant at the Spring Preserve, and the new Penthouse Club on West Russell Road...
Well, gang, that's about it for this week.
I'm outa here! -->

CONTINUE ON TO...:
>It's The Norm Article Archives
>Las Vegas News - "Heard Around Town"
>Las Vegas Leisure Guide