One couldn't have asked for a more perfect day, than what it was last Sunday. More than 140,000 NASCAR racing fans sat under blue skies to watch 43 of the best "Boys of Thunder," circle 1-1/2 miles of asphalt to determine the "Best of the Best" for that day at the Las Vegas Motor Speedway (LVMS).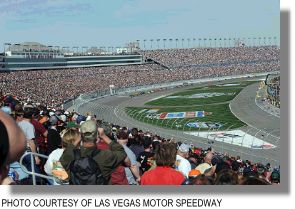 It was the first NASCAR Sprint Cup Shelby 427 race, with the man himself, Carroll Shelby, on hand to give the order for, "Gentlemen start your engines." It was only mini-minutes after the green flag flew, before the yellow flag was waved (the first of 16 for a total of 66 laps, establishing new records).
What really made it a perfect day for the winner, and for 40 percent of the spectators (locals), is that the "Wild Thing," Kyle Busch, a graduate of Durango High School in our little village, crossed the finish line first for his victory after five attempts at his home track, (LVMS). Busch, to be honest, lives in North Carolina (where 97% of the race teams call home), but his heart is still right here where he grew up.

Kyle, and his older brother Kurt (who won the 2004 Cup Series Championship), cut their teeth on the old small, tough, bullring race track, where they literally grew up racing every type of moving vehicle. The new bullring (replacing the old one) is just a few hundred yards from the speedway, (if Kyle looked real quick when he was on the high bank of turn four, he could've seen the new track as he headed for that checkered flag Sunday). Both drivers came up through NASCAR's three tiers: truck series, then into the Busch series (now Nationwide), arriving at the top of the heap in the Cup Series at full gallop.
It was not an easy victory Sunday, either. Kyle had set a new record for taking the number one spot (the pole) during qualifying Friday. But, then, during practice, the Toyota engines began to fail, and five of the race cars were relegated to the rear of the pack (changing engines). Kyle Bush was involved in an accident (and changed his engine) placing him in the 38th starting position, instead of the pole.
The driver of the Joe Gibbs Race Teams M&M sponsored #18, took his time working through traffic, avoiding some of those accidents that knocked out a slew of good race cars. Busch had to overtake Clint Bower to lead the final 16 laps. Bower didn't just move over either, nor did third place finisher Jeff Burton. No, indeed! They fought him tooth-and-nail (or fender-to-fender), but all three fought clean! The two Chevrolet drivers wanted that victory as bad as anyone. However, the "Wild Thing" wanted it just a wee bit more.
"This is petty awesome... It's very special," Kyle said, as he was congratulated in Victory Circle. "You never really know how special they can be until you actually get it done."
In the past whenever, Busch won (21 times last year - racing in all three divisions), he would always climb out and bow to the spectators. This time, however, was very special. He laid down on the hot asphalt and kissed the finish line, then bowed to the crowd.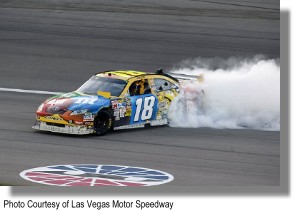 According to Busch, those final 25 laps were as tense as any he has ever faced. "Today was very cool. I was just as nervous as could be..." he added.
His pit crew, led by Steve Addington, had to work hard to help him get to the front. "We had to work on the car a lot, too. It was really, really loose in the beginning," Kyle said. "I wasn't sure if that was all me or if it was all car from getting loose yesterday and wrecking (referring to the incident on Saturday that sent him to the rear of the pack). I just worked on everybody, one car at a time."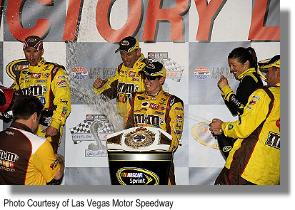 If Kyle Busch doesn't win another race this year, or for the rest of his racing life, he'll always remember his home track victory. Of course the "Wild Thing" is going to win a ton more races, and I agree with Jeff Gordon who said, "He has more talent than anyone racing today." And, that's coming from a guy who has won four Cup Series Championships during 15 years behind the wheel of a Cup car.
Kyle and his brother will always be considered Las Vegans, no matter where they hang their racing helmets. And, I believe, Kyle Busch will win the championship this year!
THIS AND THAT QUICKLY - The Monroe Powell Platters, with good buddy, Don Gloude, will be leaving our village this Sunday (March 8) for a month long tour of Australia... Dennis Bono, his dynamic wife, Lorraine, and the Bob Rosario Ensemble, will be presenting an evening of "Vintage Vegas Entertainment" at the Bootlegger Bistro this Sunday, beginning at 8:30 p.m. Reservations are strongly suggested (they sell out these special Sunday evenings) by calling 736-4939... Trent Carlini moves into the Wyrick Theater this Monday. The winner of ABC's "Next Best Thing," will present Elvis as never seen before in a show titled, "Evolution." The Wyrick Theater is not known for producing winners, so I'm honestly wishing Carlini good luck with four-leaf clover overtones... Michelle Rohl will be singing at the Bootlegger Bistro on Sunday, March 22, as part of the Kelly Clinton produced "Celebrity Spotlight" series. Bill Fayne will be at the same gig on Sunday, March 15... The one and only, Don Rickles, will be at The Orleans March 20-22...
Well, gang, that's about it for another week.
I'm Outa here!


CONTINUE ON TO...:
>It's The Norm Article Archives
>Las Vegas News - "Heard Around Town"
>Las Vegas Leisure Guide<