The Las Vegas Motor Speedway will be busy as a bee-hive this weekend, with the running of the $6,250,000.00 NASCAR Sprint Cup Kobalt Tools400 race, at noon Sunday, March 6, with its sister race, the $1,200,000.00 NASCAR Nationwide Series Samís Town 300 at noon Saturday, March 5.
Management of the speedway are expecting a near capacity crowd for Sundayís event, with around 80,000 turning out for the Saturday race. Thatís a lot of people to move in and out of a confined area, with only two roads actually usable for returning to Las Vegas proper. But, as LVMS President, Chris Powell, pointed out to the media the other day, ďthrough the cooperation of every police agency in Southern Nevada and the Department of Transportation, we have managed to get the traffic flowing outward very smoothly following the checkered flag for both events. Our goal has always been to get it done in three hours or less, and last year we accomplished that goal.Ē
There are many things going on at the speedway, prior to the two major races. One of the more popular things that fans like to do, is catch the continuous entertainment provided in the Neon Garage, beginning early both Saturday and Sunday. Entrance to the Neon Garage area takes special tickets, which are on sale at the speedway. This adds a sorta party flavor to the race, as do the rows of semi-trailers on display surrounding the area outside, where the fans arrive and head for their seats. Every race driver has at least one trailer filled with his merchandise for sale (some of the biggies even have two or three trailers, located around the spectator area). Many sponsors, such as Sprint, have active participation displays, where the fans can experience being behind the wheel of a race car, etc.
Then comes Sunday. Thatís when the celebrities turn out to have their photographs taken with various race car drivers, and other stars of NASCAR. Mayor Oscar Goodman is always there with his two famous showgirls. The United States Air Force usually has an induction ceremony at center track. And then there is the entertainment.
British-born Matt Goss, who headlines every Friday and Saturday night in the Gossy Room inside Caesars Palace Hotel & Casino, sings of "Lovely Las Vegas" in the Las Vegas Motor Speedway NASCAR commercials, and Sunday morning he'll serenade the assembled multitude prior to the start of Las Vegas Motor Speedway's Kobalt Tools 400.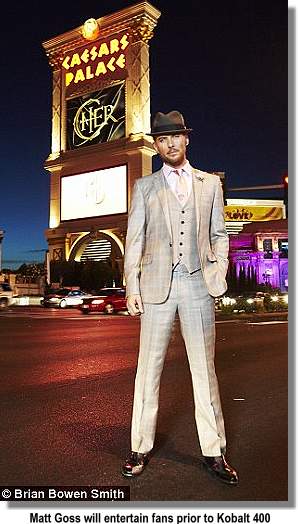 The London Daily Mail refers to him as "Las Vegas' new Frank Sinatra," but U.K. fans know him as one-third of the late-'80s pop group, Bros. Bros sold more than 16 million records and landed a string of singles in the top 10 on the pop music charts from 1987-89 in England, Germany, the Netherlands, Australia, Switzerland, France and Ireland. The group eventually broke up, and Matt became a solo act while fellow band member and brother, Luke, took up acting.
"I'm thrilled to be a part of the NASCAR pre-race show and to perform my song 'Lovely Las Vegas' to the crowd of 145,000 fans," said Goss, who met Sinatra when he was 21. "They've all come to know the song as part of NASCAR's promotional campaign this spring and it's a treat to be able to perform it for them live as well as to the televised audience."
Kristen Hertzenberg will sing the national anthem prior to the command to start engines for Sunday's race. Originally from the Houston area, Kristen aspired to opera and earned her Bachelor's degree in Voice from the University of Texas at Austin. From Austin, she moved to Boston where she earned her Master's in Opera Performance at the Longy School of Music. She sang with several orchestras and also placed first in the National Opera Association competition. She was then invited to sing her winning aria in a concert honoring Marilyn Horne at Boston's Symphony Hall.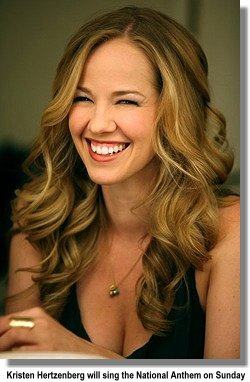 Kristen was offered stage acting roles and played Sheila on a European tour of Hair, performing in Paris, Milan, Rome, Amsterdam, Vienna, Frankfurt, Stuttgart and Cologne, among many other cities. Upon returning from her adventures in Europe, she moved to Las Vegas and was cast as Christine in the original cast of ďPhantom: The Las Vegas Spectacular.Ē
As Hertzenberg sings the closing words of the national anthem, the world-famous U.S. Air Force Thunderbirds will perform their patented flyover to bring a crescendo to the pre-race festivities.
A total of 46 entries have been received for the Kobalt Tools 400, with an equally impressive turnout for the Samís Town 300. That number gets whittled down to 43 starters through qualifying, where the top 35 in car owner points (from last season) automatically qualify (their placement, however, is determined by speed). Following the first 35, the remaining eight spots are awarded to the next seven fastest race cars, with the last remaining spot in the race reserved for a past champion as a provisional.
Both races will be nationally televised with the Samís Town 300 on ABC (KTNVó13, in Las Vegas), and the Kobalt Tools 400 on the Fox Network (KVVU-5). The Speed channel has a lot of pre-race activity leading up to the race, including interviews with drivers, etc. PRN radio will be broadcast locally on KNUU AM-970 with full coverage of both races.
So, gang, thatís about it for this week, and Iím sure you know where Iíll be? Iím outa here, and headed for the Las Vegas Motor Speedway. See ya there!
CONTINUE ON TO...:
>It's The Norm Article Archives
>Las Vegas News - "Heard Around Town"
>Las Vegas Leisure Guide<