A very good friend of this reporter, Cork Proctor, has been asked by management of the Railroad Pass Hotel and Casino, in Henderson, to return for another night of hilarious comedy. Curt Thompson, Director of Operations, has signed the long-time resident of Las Vegas to appear in the showroom on St. Patrick's Day, March 17.

Cork works as a stand-up comedian, emcee, auctioneer and teller of true tales of classic Las Vegas. He has literally watched Las Vegas grow, from a small town of perhaps 25,000, to an un-gangly metropolis of more than a million residents. He's been there, seen it all, and lived it too!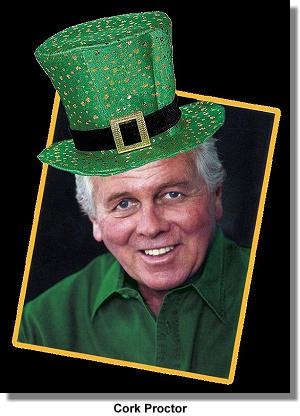 This time at Railroad Pass, located on highway I-95 on the way to Boulder City, Proctor will do his "True Tales of Classic Las Vegas," routine, where Cork tells how lobsters used to be smuggled into Las Vegas, how he was fired from five of Las Vegas' vintage hotel/casinos (at one of them, this reporter, then the director of public relations, actually fired the comedian on his opening night), how his father once rode a horse into the Thunderbird Hotel (the same hotel I was working when I fired his son), what Sheriff Glen Jones kept in his desk drawer, about Dick Clark's 50th birthday party at the Union Plaza Hotel and Casino, and many more highlights of a growing city, that are humorous, and some are even serious. All-in-all, it will be an unforgettable night of Southern Nevada history and comedy.
Over the years, Cork, has watched Las Vegas grow through five sheriffs, mega-resort openings, the arrival of the "mob," the big corporations, and metal palm trees at the airport. And, oh yeah, when asked if he knows where any bodies are buried, Proctor will look at you, smile and answer, "Are you crazy…No!" Showtime for this very rare performance at Railroad Pass will be at 7:30 p.m., with tickets priced at $20.00 all inclusive. Tickets are on sale now at the casino cage.
And, gang, mark down on your calendar, Sunday, July 22, at 2:00 p.m., so you won't miss attending a "Comedy Roast," honoring Proctor on his 80th birthday. It will take place in the showroom at the South Point Hotel and Casino, and will feature a group of well know comedians (and friends) ripping into the long-time resident, and stand-up comedian. The public is invited to attend, and requested donations will benefit Opportunity Village. On the same day his memoir, "MY MIND IS AN OPEN MOUTH," sponsored by UNLV's Arnold Shaw Popular Music Center, and published by Stephens' Press, will debut, at a book-signing immediately following the roast.
TOP OF NEXT COLUMN
THIS AND THAT QUICKLY:
In a week, the Las Vegas Motor Speedway will come alive once more for the annual visit of the "Boys of Thunder." Yep, the men and women of NASCAR will be here to take on the 1 1/2 mile high-banked superspeedway in two of the three top divisions of NASCAR: Nationwide and Cup series. And, as usual, the Speedway will be concerned with the flow of traffic in, and especially away, from the track late Sunday afternoon.
"Thanks to the efforts of our local officials and law enforcement agencies, we once again expect nothing but smooth traffic flow each day during our NASCAR Weekend," said LVMS president Chris Powell.
One major point of emphasis to further improve the outbound progression will be the prevention of illegal parking along Hollywood Boulevard. Cars parked on the sides of Hollywood, in areas designated with No Parking signs, will be towed (Powell preferred the word "relocated") to lots throughout the Las Vegas area.
"Over the past few years, we have seen a number of people parking in this area," Powell said. "It hinders egress in two ways. The people walking to their cars are preventing people from driving through the Speedway Commerce Center to exit, and once people arrive at these illegally parked vehicles, they start interrupting the steady flow of traffic."
While commuting by car should be trouble-free, the speedway still encourages fans to use mass transit to attend the races. For the fourth consecutive year, Coach America will service the event. In 2009, Coach America replaced CAT as the preferred transit organization for the events at LVMS. Race fans may contact Coach America at www.nascar.coachamerica.com or (702) 948-7360. For those wishing to take a private charter to the races, LVMS recommends Key Tours. Key Tours has been providing service to the speedway for several years. Key Tours can be contacted at www.keytourslv.com or (800) 261-2691.
The 2012 edition of the New Mint 400 Off-Road Race, appears to be as close to a sell-out as one can get. The Bureau of Land Management has allotted the Martelli brothers, Matt and Josh (who purchased the rights to the race), and Casey Folks of Best in the Desert (race management), a total of 300 entries. When I last talked to Matt Martelli, he indicated they should be sold-out by the time of the press conference on Monday, March 12, at the Golden Nugget. The race will begin downtown on Friday, March 23, with technical inspection on Fremont Street, and the race starting on Saturday in Primm, over a 90 mile circuit for four laps.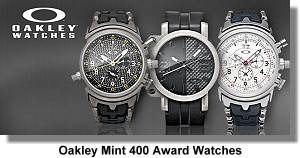 The Oakley Company, well known for its specialty sunglasses and dynamic watches, has gotten involved with the Mint 400, by producing some very special Oakley watches, engraved on the back with the Mint logo, as special awards. A 12 gauge titanium watch will go to the Overall Champion in the Unlimited class and co-driver; the fastest qualifier in the Unlimited class and co-driver will be awarded a Gearbox Titanium, and a 12 gauge white dial stainless steel bracelet will be presented to the Overall Champion in the Limited class and co-driver.

Well, gang, that's it for yet another week of sparkling news. I'm outa here!


CONTINUE ON TO...:


>It's The Norm Article Archives
>Las Vegas News - "Heard Around Town"
>Las Vegas Leisure Guide