Does the name Paige O'Hara ring a bell with you? It should, if you ever went to see the Disney film, "Beauty and the Beast." O'Hara was the voice of "Belle." The famous animated beauty (Belle) was even modeled after Paige. Of course the vibrant singer and actress, who calls Las Vegas home, can also be seen daily as the "Soap Star" in the hit, "Menopause the Musical" at the Luxor Hotel and Casino. So, why is this reporter taking the time to explain Paige O'Hara? We have been friends since I first interviewed her at the Flamingo Hotel in the mid-nineties, when she was the special guest star in "The Great Radio City Music Hall Spectacular."

What many of you may not be unaware of, is that O'Hara is a very accomplished painter of fine art. Yep, the girl can pick up a paint brush, fill it with oil paint, and literally turn out a masterpiece on the white canvas in front of her. Paige is so darn good as a painter, that the Disney Fine Art Collection has her under exclusive contract for her, "Belle on Belle," collection. Since the success of the critically acclaimed, Oscar-winning animated film, Paige began painting a few renderings based on her character, and other favorite scenes from the film. Soon word got back to the people at Disney, suggesting that they should take a look at her paintings. The rest is history, as they say, in show biz. Her first painting of "Belle," an edition of 295 Giclees on canvas, has sold out.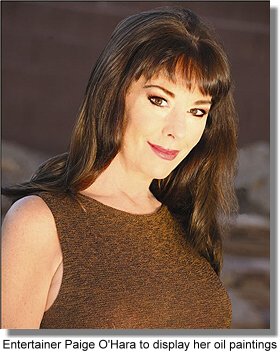 A wee bit of history is important here, since it was Paige's ability to draw and paint that helped her to become a star on Broadway, and to tour the world as an actress and wonderful singer. When O'Hara was 17, she moved to New York and began the daily grind of going to various auditions with some success—but not enough to really survive in New York. A very accomplished artist, growing up in Florida, she began selling water color paintings on the streets of New York. "That helped me to survive, while I made the rounds for hundreds of auditions," Paige explained. "If it hadn't been for my paintings, I may have gone back to Florida, and who knows what would've happened then!"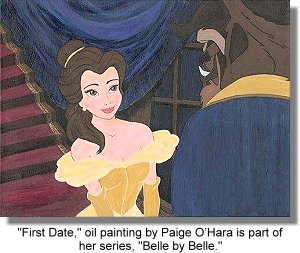 On Saturday, March 3rd, from noon to 6:00 p.m., Paige O'Hara will be at the Renaissance Galleries Shoppes at the Palazzo Hotel and Casino, 3327 Las Vegas Blvd., where you can see her latest creations and meet the artist. Paige will sign and personalize all purchased artwork during this very unique event. Be one of the few to own an original painting, by the entertainer who has thrilled millions, as they watched the classic movie since 1991. Oh, yes, for her work as Belle, she was honored with a Disney Legend Award in August, 2011. How about that gang?
TOP OF NEXT COLUMN
THIS AND THAT QUICKLY:
A fellow journalist, and a friend since we both moved to Las Vegas in 1965 (she returning, and me beginning), was the guest speaker at the monthly meeting of the Las Vegas Media Group luncheon, held every third Monday at the Wedding Room inside the Cellar on west Sahara. Myram Borders, who grew up in Las Vegas and graduated from Las Vegas High School with a Harold's Club Scholarship to attend the University of Nevada, Reno, where she graduated with a degree in Journalism, told the gathering of 50 plus attendees a few stories she was proud of during her illustrious career. Myram was immediately hired by United Press International, and was assigned to bureaus in Reno, San Diego, and Los Angeles, before returning to Las Vegas in 1965, as Bureau Manager for UPI. Borders served as the reporter who got the facts straight, and out to the world for two decades. During that time she reported on the Nevada Test Site, Yucca Mountain, Frank Sinatra, Howard Hughes and thousands of other important events that happened almost daily in the town that never slept. The next Las Vegas Media lunchion, opened to the public, will be Monday, March 19, at 11:30 a.m.

Dodge will reveal its 2013 NASCAR Sprint Cup Series car in Las Vegas Motor Speedway's Neon Garage on Sunday, March 11, prior to the start of the Kobalt Tools 400. The unveiling of the 2013 Dodge Charger for NASCAR competition will take place immediately following the NASCAR Sprint Cup Series public drivers' meeting.
"We're really excited," Las Vegas Motor Speedway President Chris Powell said. "Dodge has been the official vehicle of Las Vegas Motor Speedway since 2001. We're appreciative and happy that Dodge has chosen LVMS as the place where the new NASCAR Dodge Charger will be unveiled. We are very much looking forward to this."
The unveiling will take place in Victory Lane in the Neon Garage. It will also be televised through the Sprint Vision screens so fans in the grandstands will be able to see the unveiling.
Stock car racing fans have voiced their appreciation of the decision to have the race cars for the 2013 NASCAR Sprint Cup Series season more closely resemble the vehicles they drive on the street.
NASCAR Weekend at the high-banked speedway kicks off on Friday, March 9, with Stratosphere Pole Day. The NASCAR Nationwide Series takes center stage on Saturday, March 10, with the annual Sam's Town 300 at 2 p.m. The NASCAR Sprint Cup Series Kobalt Tools 400 is scheduled to start at noon on Sunday, March 11.
The Presidents of the F.I.O.R.E. Club (Fun Italians Organizing Ridiculous Events) will hold its next meeting at the Italian American Club, 2333 E. Sahara Blvd., on Thursday, March 8, beginning at 11:30 a.m. Normally, ladies are not allowed to attend the regular monthly meetings, but an exception is being made by President Nelson Sardelli (all members are Presidents by the way, and oh, yes, it's for Italians only, but anyone can join) for this special event.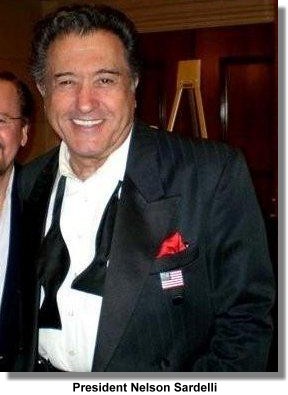 President John Bakie will be presenting a super nice wine tasting, along with some of the most delicious foods prepared by a few leading Las Vegas chefs, along with the usual fine buffet provided by the club. And, gang, it will cost you only $22.00 to attend. For reservations, email: Nsardelli@aol.com.

Well, gang, that's about it for this week. I'm outa here!

CONTINUE ON TO...:

>It's The Norm Article Archives
>Las Vegas News - "Heard Around Town"
>Las Vegas Leisure Guide<