Well, gang, it has finally happened. I have climbed the ladder to stardom: I had my second exposure for a new television pilot, "The Jadagrace Show," being shot right here in Las Vegas. Now, in the true tradition of journalism, I must speak the truth: I was not a guest star, didn't even have a talking part, as it turned out, I was one of eight extras hired to be a senior citizen living in a retirement home. Like my friend, Harry Basil (he's the executive producer) said, "Norm you'll be perfect for the part." As the attached photo of the cast shows, he was right!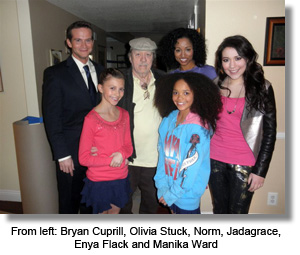 Jadagrace Barry is a beautiful young lady of 11, who prior to this voyage earned a sixth starring position in the hit 2009 movie, "Terminator Salvation," starring Christian Bale. Since she turned eight, this youngster has continued to amaze thousands with her all around abilities as a singer, dancer and actress. She just about does it all. Her song, "Mr. Magic," a tribute to one of her heroes, Michael Jackson, hit U-Tube with little build up, and was quickly viewed by literally thousands, becoming a major sensation.
The basic plot of the "Jadagrace Show," takes place in Las Vegas, where her mother, played by Enya Flack, owns a very nice Retirement Home. A producer in Hollywood, Danny P. (Bryan Cuprill) discovers Jadagrace while searching for unknown talents. He convinces Karen (Flack) to sign a contract with him, so he can shop a television idea to the studios. Danny gets a deal and returns to Las Vegas with a contract for a "Jadagrace Show," to be produced in Canada. Mom turns it down, as she is not going to move to Canada for six or eight months. "I have a business to run, this home..." Danny returns to Hollywood, and returns with a better deal for everyone: "It's going to be filmed in Las Vegas!" This changes everything.
Now in actuality, the real Jadagrace show will be shot in Las Vegas at the studio located behind the Palms Hotel & Resort, The Las Vegas Film and TV Recording Studio, 4290 Las Vegas Studio Court. Directing the series is Joseph Merhi, who has a long list of credits including, "The Whole Ten Yards" and "Last Man Standing," among the more than 100 films and television shows he has been involved with.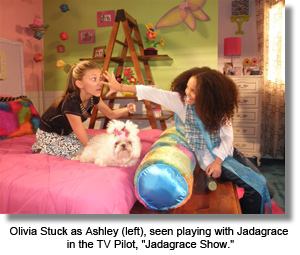 Besides being personally impressed by Jadagrace, there is a very young (11) actress who also dances, sings and of course acts: Olivia Stuck, who plays Jadagrace's best friend. Olivia reminds me very much of a very young Natalie Wood, who at age nine starred in the hit movie, "Miracle on 34th Street," and went on to become a major star (I first met Wood on the set of "Rebel Without A Cause," through my friend, James Dean). Stuck has had numerous parts on television and movies including, "The Princess and the Pony" and "The Age of Reason," to name a few of the nine movies and other projects she has worked on.
Bryan Cuprill has a long list of credits including the part of Frat Guy on "The Drew Cary Show," "Legally Blonde 2, Red, White & Blonde," and "Duck, Duck, Goose," where he had third billing as C.B.
As for my day on the set at the Retirement Home (a beautiful private home in the southwest section of our village), it was quite an experience. Not since I had a brief swing at movie making in Hollywood in the late '50s and early '60s, had I been on a movie (in this case a television) set. A lot had changed in the years since. The crew and cast were extremely friendly, and the two principals, Jadagrace and Olivia Stuck, would constantly come to us seniors, and tell us what was going to happen next. In one scene, shot outside, we are sitting around a circle, while special guest star, Manika (who lives in Las Vegas and just signed a contract with Sony Records) entertains us with a new song she just wrote. We (the eight senior citizens) had to stay in our position (naturally) with no jackets on (it was supposed to be a sunny and warm day outside). At first it turned out to be a nice, and somewhat sunny afternoon, but after shooting took so long (close ups, different angles, etc) it began to get a wee bit chilly. Both girls would run over and tell us, "it's going to be another 10 minutes, I hope." It was something they didn't have to do, but they seemed to worry about our well being. So did the crew, but the shots had to be completed before dark. That's showbiz, gang!
I personally hope the pilot sells and they continue to film in Las Vegas. It should be a great boost to our village, and give a few of us locals a wee bit of work as extras, and even some actual speaking parts.
Oh, yes, I can't close out this weeks column without thanking the cast and crew of the series, for remembering that Valentines Day (that's the day this all took place) was my birthday. They had a cake and everyone surrounded my table and sang the usual song. That was very nice, gang, and one nice birthday surprise. The other surprise took place later that day when my dear friend, Nancy Barr and I had dinner downtown at the El Cortez Hotel & Casino. Meeting us was my closest friends in Las Vegas, Mel Carter and his beautiful bride, Jackie Brett. It was a wonderful day!
Before I leave, let me remind you, that this Saturday (Feb. 19) from noon to 3 p.m. The Corner Gallery (where I have a couple of my sculptures on display and for sale), located at 1325 Arizona Street, Boulder City, will have a very special guest, graphic artist Boo Witzmann, available to paint original artwork such as Dragons, Tigers, Eagles and other items she is famous for on your blue jeans or other items of clothing.
Well, gang, that's about it for another week of news. I will be attending a celebration of life for the loss of my friend Steve Dacri, who passed away on Feb. 11. It will be taking place at Davis Funeral Home on Eastern Ave. at 5 p.m. this Sunday (Feb. 20). There will also be an earlier Tribute to the late Breck Wall, on the same day, but beginning at 3 p.m. in the South Point Hotel & Casino, with a group of entertainers turning out to honor the man who made comedy his business. I'm outa here!
CONTINUE ON TO...:
>It's The Norm Article Archives
>Las Vegas News - "Heard Around Town"
>Las Vegas Leisure Guide<