Took a tour of the newest tourist attraction to open in downtown Las Vegas, the other day, the official, Mob Museum. And, I'm not going to waste any time in telling you, this is a terrific addition to our historic section of the village. It would not have happened, had our former, Mayor Oscar Goodman, not prevailed. I for one, having lived here since 1965, think it will succeed far beyond what some skeptics are saying.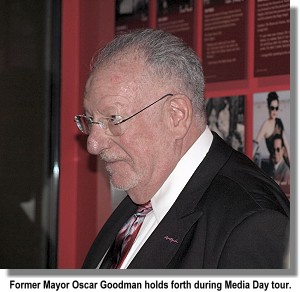 The largest portion of the three stories of memorabilia is, without question, the famous courtroom, where, on Nov. 15, 1950, U.S. Senator Estes Kefauver, brought his Special Senate Committee investigating organized crime in Interstate Commerce to Las Vegas. It was the seventh stop on a 14 nationwide hearing tour, and very possibly the most watched—at least by our local residents at the time. It has been completely recreated, including original benches, and there is even a strange scent of old wood in the air. The Mob Museum is housed inside the three story building, that, at one time, served as the first Federal Courthouse [in Las Vegas] and Post Office, and is one of the few historically significant structures left standing in our town. Dedicated in 1933, it was active until 2005, when the post office vacated the building. At one time, I actually had a mail box located on the first floor.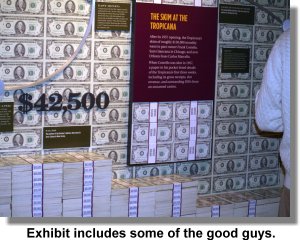 The tour took 15 members of the media (there were probably more than 100 attending) on a nearly two-hour walk, leaving every 10 minutes, from the special tent erected next to the courthouse. Our particular guide was Patrick Gallagher, president and founder of Gallagher & Associates, an internationally recognized design service firm. We met him at the entrance and took an elevator to the third floor where the tour began. And, for those out there planning on a fast look—forget about it! You will not get to see, nor will you experience, just how neat the exhibits truly are in two hours. Many of us went back after the guided tour, and spent many hours of quality time reading the various historic facts that explains every exhibit.
One of the most anticipated exhibits is the brick wall associated with the infamous February 14th St. Valentine's Day Massacre in Chicago 83 years ago. Seven men affiliated with the Bugs Moran gang were lined up against the wall and shot by the South Side Italian gang led by Al Capone. There is also the barber chair on view where mobster, Albert Anastasia, was shot and killed while getting a shave in 1957.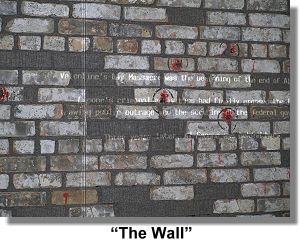 Artifacts, integrated throughout the museum's interactive exhibits, provide an insider's look into many of organized crimes biggest names, including, Capone, Moran, Charles "Lucky" Luciano, Meyer Lansky, Frank "Lefty" Rosenthal, Tony Spilotro, Mickey Cohen, Whitey Bulger and John Gotti to name just a few.
TOP OF NEXT COLUMN
The museum teamed up, and worked, with the FBI and many of the more famous undercover agents to bring the whole truth, and nothing but the truth, to the exhibits. There are five short films where you can sit and actually see mobsters in action, and watch some of the Kefauver Hearing.
For the locals, admission is really good, only $10 bucks. So, gang, gather up the family and head for downtown Las Vegas, and the Old Federal Courthouse, for an experience you will not forget. And, I'll betcha, you'll definitely want to go back again and again. And, when you have company, and they ask where they should go to see something of interest, you'll know exactly where to send them! I really highly recommend this fabulous Mob Museum.
THIS AND THAT QUICKLY:
Popular television star, Tim Allen, will serve as Grand Marshal for the Kobalt Tools 400 NASCAR Sprint Cup Series race at Las Vegas Motor Speedway on Sunday, March 11. Allen, who currently stars in the "Last Man Standing" sitcom on ABC-TV on Tuesday nights, will give the command to start engines for the annual race. Allen is a NASCAR fan and had 2011 NASCAR Sprint Cup Series champion Tony Stewart on his show last Tuesday.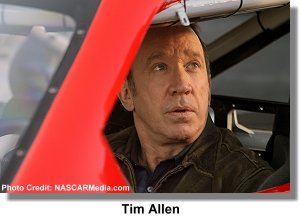 "I love the track, the crowds, the cars – I'm thrilled to be the grand marshal for this NASCAR race in Vegas. To have all those engines roar to life at my command? That's a powerful thing. Hell yes, I'm excited! It's going to be a great day," Allen said.

The 58-year-old Allen boasts a lengthy and successful career in television and motion pictures. He was the star of the hit 1991-1999 sitcom, "Home Improvement," and "The Santa Clause" movie series, to name just two. He has also been known to get behind the wheel of a racecar and actually compete in a few road races.

NASCAR racing activity starts on Friday, March 9, with Stratosphere Pole Day. NASCAR Sprint Cup Series qualifying will begin at 3:40 p.m. The NASCAR Nationwide Series takes center stage on Saturday, March 10, with the annual Sam's Town 300. Qualifying for the Sam's Town 300 will begin at 10:35 a.m. and the race will start at 2 p.m. The Kobalt Tools 400 is scheduled to start at noon on Sunday, March 11.

The Annual Miss Mint 400 contest is underway with contestants vying for a special photo shoot, public appearances and a $5,000 check. Information for entering is easily obtainable at www.theMint400.com. Some very famous ladies have worn the "Miss Mint 400" sash, including the famous, Vanna White, of TV's Wheel of Fortune game show, and Lynda Carter, of Wonder Woman fame. You must be 18 or older to enter. Speaking of the Mint 400, the new owners, Matt and Josh Martelli, reported that they have received more than 260 committed application requests thus far, and we're still more than a month

Multi award-winning tribute artist, Rob Garrett, and his 8-piece 'King of Diamonds' band, returns to the Cannery Casino, in North Las Vegas, to pay tribute to the iconic Neil Diamond. Garrett has been appearing at the Cannery for the last three years, and has become one of the casino's most popular concert attractions. Last year, this columnist wrote: "Of all the tribute artists running around Las Vegas (and elsewhere), there is none better than Rob Garrett." And that is no bull!

Well, gang, that's about it for another week. I'm outa here!

CONTINUE ON TO...:

>It's The Norm Article Archives
>Las Vegas News - "Heard Around Town"
>Las Vegas Leisure Guide<