Bob Anderson returns to a Las Vegas stage for a limited engagement, this coming Friday through Sunday, February 18-20, in the Addison's Lounge at the Rampart Casino, 221 N. Rampart Blvd, where he will perform his impressions and sing a bunch of great songs from The Great American song book.
Anderson, named by People Magazine as "America's Greatest Singing Impressionist," will perform his classic re-creations of vintage Las Vegas entertainers including, Tony Bennett, Frank Sinatra, Dean Martin, Sammy Davis, Jr., Mel Torme', Jack Jones, Tom Jones, Johnny Mathis, Ray Charles, Boz Scaggs, Bobby Darin, Robert Goulet, and many more during his 90-minute performance..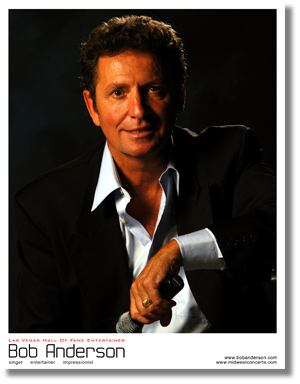 Bob, who has been a personal friend of this writer for more than 20 years, is not just a singer and impressionist, he is the consummate entertainer. According to the Los Angeles Times Calendar, "Bob's comedic timing and his extemporaneous exchanges with his audience are reminiscent of the golden days of show business when glamorous supper clubs had their heyday. Audience members feel as though they have been transported back to a time when showmanship was an art, and music's greatest entertainers sang songs from The Great American Songbook. Bob is one of the few entertainers in show business, who can convey the style, substance and spirit of that era with such skill."

Legendary critic, the late Joe Delaney of the Las Vegas Sun stated, "In our book, Bob Anderson rates right up there with Sinatra and Bennett as a saloon singer." Anderson is backed by three outstanding Jazz musicians, "Conductor to the Stars," Vince Falcone, on piano, Kenney Seiffert on base and John Nasshan on drums.

His appearances have taken him to top venues around the world from Monti Carlo to Sydney to Dubai, as well as the Plaza Hotel in New York City for eight years, and every major resort in Vegas, Reno, Tahoe and Atlantic City. In addition, he has appeared on more than 100 national television shows from David Letterman to Johnny Carson. Bob holds the distinction of being the only performer ever to appear on The Tonight Show with Johnny Carson twice in the same week!






In 2000, readers of the Las Vegas Review-Journal voted for their all-time favorite performers over the last 50 years. Anderson came in at number 12, smack in between Barbra Streisand and Ray Charles, which definitely places him with the greats. And, not to bad company either. In 2002, he was inducted into the Casino Legends Hall of Fame, at the Tropicana Hotel. Anderson, for a number of years, was also the official Host for the event until its demise.
If you want to experience an intimate evening, in the tradition of old Las Vegas, then you must go see Bob Anderson, at the Rampart Casino. Show time is 8 p.m. on Friday and Saturday, Feb. 18-19 and 4 p.m. on Sunday, Feb. 20.
THIS AND THAT QUICKLY:
There is only one day (un-officially with the running of the Budweiser Shootout in Daytona tomorrow, Feb. 12) before NASCAR kicks off the 2011 season of 43 races, to name a new champion in all three tiers of NASCAR racing: Truck, Nationwide, and of course, Sprint. The NASCAR Sprint Cup Series will officially start its series this coming Thursday (Feb. 17), with the two special qualifying races, and the biggie, The Daytona 500, on Sunday, Feb. 20th.
And, if you're like me when you watch the Cup races, you always watch the interviews with the winner. And, that's where you see one of two beautiful young ladies, standing in a fire suit with Sprint clearly displayed, behind the winner and smiling at the television cameras. And both ladies, Paige Duke and Monica Palumbo, have those beautiful smiles that everyone remembers. Palumbo has been a part of the Winners Circle interviews since its inception in 2007, and this marks the second year for Duke. This year Sprint decided to add a third member to the team, Kim Coon, who was in corporate marketing (and was also at one time a NFL cheerleader) when she was selected for the new position. Welcome aboard Ms. Coon.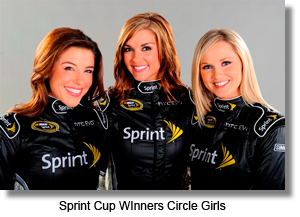 Our local NASCAR track, the Las Vegas Motor Speedway, has stepped up to the plate with a very special offer to some angry Super Bowl fans. The Speedway is offering free seats to its NASCAR weekend (Mar. 3-6), with four of the displaced seaters (they had purchased tickets to the game, but the seats were taken away), being picked by random draw to have their weekend housing picked up by the Stratosphere Hotel/Casino. Proof of purchasing tickets to the Super Bowl will be required, and you must contact Aubrey Hall at 1-800-644-4444 or ahall@lvms.com.

The Shades of Sinatra—a tribute show to Frank Sinatra has opened at the Wolf Theater inside the Clarion Hotel & Casino, and will perform every Tuesday and Thursday at 8:00 pm.

The four dynamic performers, Larry Liso, Ryan Baker, Carmine Mandia and Lisa Smith, lend their world-class vocal abilities to over 30 of Sinatra's biggest hits. This non-stop, high-energy show is loaded with wonderful humor, off-the-cuff, good-natured ribbing, as well as poignant stories about "The Man," and his music.

Originally created in early 2005, Shades of Sinatra was the brainchild of Vegas entertainer Kelly Clinton, who assembled three male singers who loved to sing Sinatra's songs. Kelly realized that putting singers from different backgrounds, and generations together on a stage, to talk about their love of "The Man," would create an interesting dynamic, as a setting in which to sing some of the most beloved popular songs in history. Lisa joined the three guys a year later. This is a tight group, gang, and one highly respected within the entertainment community. I highly recommend a trip to the Clarion to see and hear some dynamic singing.

Well, gang, that's it for yet another week. I'm still reeling from the Steelers. Oh, well, life does go on. Yeah, NASCAR is back. I'm outa here!

CONTINUE ON TO...:
>It's The Norm Article Archives
>Las Vegas News - "Heard Around Town"
>Las Vegas Leisure Guide<