Stopped in at the E-String Grill, on Sunset and Mountain Vista in Henderson, Monday evening to listen to, and watch, some terrific jazz as presented by Gary Anderson and his band. The first set kicked off at around 7:15 p.m. and continued for nearly 90 minutes, and was terrific. The sad part of the whole evening, for us (Cork Proctor was my guest), was the lack of attendance (we honestly expected a huge crowd), but for those who were there, were well entertained.

Anderson had assembled a terrific group of jazz musicians for this very special evening, "A Tribute to Howard Rumsey's Lighthouse All Stars." Tom Hall (formerly lead alto sax with the late Buddy Rich band) on alto and baritone saxes and vocals; Joel Gibson did the trumpet and flugelhorn honors; drums were handled by a wonderful friend, John Plows; with the stand-up bass (ala Rumsey) strummed by Steve Flora. The keyboard was well represented by Cocho Arbe (who I have been told did a spellbinding solo during the second set of Russ Freeman's "The Wind".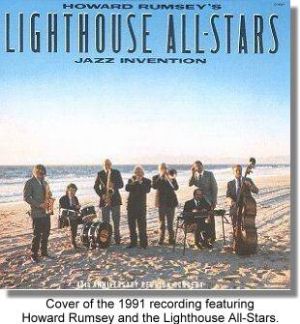 We only stayed for the first set, which consisted of nine outstanding musical renditions as played by various guests, who would frequent the Lighthouse in Hermosa Beach, Calif., during its heyday. The first number was the unofficial theme song for the Lighthouse All Stars, "Topsy," followed by "Bernie's Tune," and "I Know, Don't Know How," as composed and played by the great Gerry Mulligan. Rumsey would often be featured on the next song played by Anderson's group, "Walkin' Shoes," with Flora featured on bass. A highlight for me (they were all highlights, gang) was when Hall and Anderson combined the two baritone saxes for the Dave Brubeck number, "In Your Own Sweet Way." "Funny Valentine" was next on the agenda, followed by "Band Aid" and "You'd be so Nice to Come Home To," in a tribute to Frank Rosolino. The final song for the first set was perfect, "Lighthouse Blues."
If you loved jazz at any time in your life, you owe it to yourself (and perhaps your kids or grandkids) to attend a weekly jazz session at the E-String, or any jazz room near you. The price of hearing great music is not expensive, considering you are seeing some of the best jazz musicians, in the present day world, playing for the love of the genre. Perhaps you are not aware, but Jazz is the only true American music not copied or brought to America from someplace else.
THIS AND THAT QUICKLY:
For the first time in five years, the Dodge Midnight Mayhem, presented by Tony Rowe Enterprises' Operation Street Legal, kicked off in January, and the series is off to a roaring start. Despite wind and cold, 257 drivers participated in the Midnight Mayhem kickoff last Friday night.
TOP OF NEXT COLUMN
The next Dodge Midnight Mayhem will take place Friday, Feb. 10 at 7 p.m. Midnight Mayhem is The Strip at Las Vegas Motor Speedway (LVMS) safe alternative to illegal street racing. Instead of street racing illegally on the roads of Las Vegas and Clark County, The Strip at LVMS encourages enthusiasts to race each other on the safer confines of its NHRA-sanctioned drag strip. Fourteen Dodge midnight Mayhem events are scheduled for 2012. Now in its 11th year, Midnight Mayhem is open to any licensed driver with proof of insurance, and any street-legal car or motorcycle (vehicle must be fully registered). A driver must provide proof-of-ownership or written authorization from the owner. Minors must present a signed parental consent form, which may be obtained by calling The Strip's office at (702) 632-8213.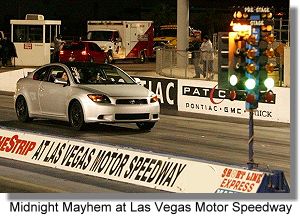 All cars are required to pass a basic NHRA safety inspection (properly-inflated tires, battery securely mounted, seat belts, etc.). Cars must be driven through registration and tech inspection (trailered vehicles are not allowed). Alcohol is not allowed and beer is not sold at the track during Midnight Mayhem, and coolers and weapons are not allowed. Management reserves the right to alter vehicle and participant eligibility for the betterment of racing and safety. The entry fee is $15 to race or ride along and $5 admission for spectators. Ride-along passes and restricted-area passes are $15. The first event on Feb. 10 will feature an elimination bracket for Pony Cars (any American made, rear wheel drive car).
NASCAR Weekend is one of the most anticipated events on the Las Vegas calendar, and Boyd Gaming Corporation is once again revving up for the 15th annual Sam's Town 300 at the Las Vegas Motor Speedway. Ahead of the March 10 race, Boyd Gaming properties will be offering a variety of unique experiences designed to appeal to NASCAR fans of all ages. On Thursday, March 8, fans are invited to several free events with exclusive chances to get up close and personal with five-time NASCAR Sprint Cup champion, Jimmie Johnson, and third-generation NASCAR driver and champion Dale Earnhardt, Jr. Starting at 7 p.m., Emmy® Award-winning FOX sportscaster, Chris Myers, will chat with Johnson, driver of No. 48 Lowe's Chevrolet for Hendrick Motorsports, at Suncoast Hotel & Casino. Doors open at 6:45 p.m. for this free event.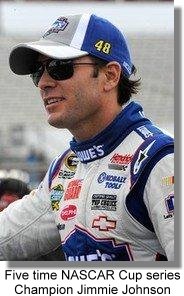 At the same time, at Sam's Town Live!, Fox Sports' NASCAR commentator and former Crew Chief, Jeff Hammond, will interview Dale Jr., No. 88 Lowe's Chevrolet driver, and answer fans' questions about Hendrick Motorsports. Doors open at 6:00 p.m. for this free event, courtesy of AMP Energy. Fans can continue rubbing elbows with drivers on Friday, March 9, from 8 to 9 p.m., when Sam's Town will host autograph signings with Sprint Cup driver, Regan Smith, and 2011 NASCAR Nationwide Series champion, Ricky Stenhouse Jr. This free event will be held adjacent to the race and sports book at Sam's Town.

Well, gang, that's about it for this week. I'm outa here!

CONTINUE ON TO...:

>It's The Norm Article Archives
>Las Vegas News - "Heard Around Town"
>Las Vegas Leisure Guide<