An event taking place tomorrow (Saturday, Jan. 30) will see a long-time friend of this writer, Norm Crosby, best known as "The Master of Malaprops," making a special one-night concert appearance at the new Las Vegas Rocks Café in downtown Las Vegas.
Owners Tony Sacca and Josette LeBlond, who opened the new café a little more than a month ago in the old Jillian's (Neonopolis building), 450 Fremont Street, had promised that they would bring top-notch entertainment to the downtown location. Crosby is the first major entertainer to fulfill that promise. Showtime has been set for 7 p.m. with tickets priced at $50 per person.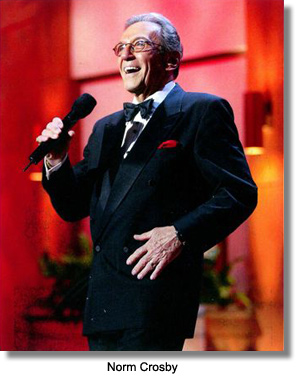 Crosby is a veteran comedian, who has appeared on just about every television show there is (or was), beginning back in the day with Ed Sullivan's "Toast of the Town" on CBS in the '60s. As a stand-up comedian, Norm and his weird versions of words, such as "I always speak from my diagram" or "I drink nothing but decapitated coffee," made him a favorite on the Las Vegas Strip.
The late Robert Goulet took a personal liking to the comedian, and when Goulet headlined at the Flamingo Hotel in 1963, Norm was his opening act. For the next three years, the pair toured together and starred at the Sahara Hotel, and remained the best of buddies, on and off the stage, until Goulet's death in 2007.
This writer was the sports editor for the Las Vegas Sun from 1965 to 1967, and for extra money worked as the ring announcer for the weekly fights staged at the Fremont Hotel, downtown, owned by the late Ed Torres (Ed is the father of the famous Olympic swimming star, Dara Torres). Goulet was a huge boxing fan, so he and Crosby would often attend the fights on their nights off.
Well, as is customary, it was my duty prior to the main event to introduce any celebrities in the audience. I had been handed a list of names and among them was Norm Cosby (misspelled). When it came time I started out good, "In our audience tonight, appearing at the Sahara Hotel is singing sensation, Mr. Robert Goulet…." Next came, "And appearing with Mr. Goulet is the master of the spoken word, Norm Cosby…" Well, everyone but me knew I had mispronounced it. I stuttered around, making things worse by stupidly adding, "I meant Bill Cosby. No, it's Bill Crosby…" Finally Goulet stood up and yelled, "Norm Crosby…" Following that episode, I always double checked the spelling of a name with the individual if I didn't know him or her. Oh, yes, the closure to this little story: Robert told me after the fight, "You better keep your day job kid!" And, as you perhaps know, I eventually went to work for Robert Goulet and his wife, Vera, and we were friends for nearly 28 years. It was a friendship I will never forget. Robert was the best!
Crosby, of course, went on to headline in the main showroom at the Sahara Hotel and other Strip hotels, and has co-hosted and contributed to the annual "Jerry Lewis MDA Labor Day Telethon," since 1983. Crosby was honored by being inducted into the "Casino Legends Hall of Fame" at the Tropicana Hotel in the '80s, and was presented with a Star on the Hollywood Walk of Fame in Los Angeles.

Traveled out to the M Resort Spa Casino the other afternoon to partake in a cooking show. Yep, this bachelor (23 years now) does cook now and then at home. So, when I got the unusual invitation from Rina Foster (PR for the M Resort) I quickly accepted. The star of the show is Chef Tina Martini and the name of the show is, Martini Time With (guess who)?

Similar to a network television cooking show, the 60-minute Martini Time treats a live audience to entertaining and educational demonstrations, complimentary food/beverage sampling and a special "Handy Hints" and "Tasty Tips" handout—a Chef Tina signature. The five-day-a-week show covers a variety of topics centering on three key areas of living healthy: nutrition, fitness and mind/body.

"My shows are about real food and real fun. It's about wellness—eating great and feeling great," the bubbly Chef Martini said. "I give practical advice, tips and techniques to empower people in various areas of their life."

Martini Time With Chef Tina Martini is presented exclusively inside Studio B Buffet's intimate cooking studio—which features multiple TV cameras and lights, the latest Viking appliances (geeze, I had no idea they manufactured all those things for cooking. All I have are a few simple pots). It also has the state-of-the-art kitchen cutlery (again wow) and equipment (naturally a Chef of her caliber would have such things).

Show times are Sunday-Thursday at 10 a.m., 1 and 4 p.m. It kicked off on Tuesday, Jan. 26. Tickets are $39.95, $49.95 and $59.95 inclusive of taxes and fees. The price includes a Studio B lunch or dinner (depending on show times), as well as reserved seating at the buffet immediately following the show. And, hey gang, the buffet is absolutely out of sight. There is stuff there to satisfy anyone's desire, believe me!

Well, gang, that's about it for this week. Oh, yeah, it's now only 32 days until the Boys of Thunder arrive at the Las Vegas Motor Speedway.

I'm outa here!









CONTINUE ON TO...:
>It's The Norm Article Archives
>Las Vegas News - "Heard Around Town"
>Las Vegas Leisure Guide<