Actress Shirley Jones, winner of the 1961 Oscar for Best Actress in a Supporting Role for "Elmer Gantry," will be honored by Variety, during Oscar Night Las Vegas, taking place at the Palms Casino Resort Feb. 25-26, Executive Producer, Clinton Billups Jr., announced earlier this week.

Officially sanctioned by the Academy of Motion Picture Arts and Sciences, Oscar Night Las Vegas has become a weekend destination event for those actors unable to attend the big show in Hollywood, appear on the "red carpet," and help celebrate the Academy Awards. Proceeds will benefit Variety, The Children's Charity of Southern Nevada, dedicated to providing services for children with special needs in the Las Vegas community since 1950.

Shirley Jones and her husband, Marty Ingels, actor, comedian and theatrical agent, will be guests of honor at a reception hosted by Variety on Saturday, Feb. 25, from 6:30 p.m. to 8:00 p.m., in the Fantasy Suites at The Palms. I worked with Ingels back in the 1978, when I was promoting the Silverbird Hotel (formerly the Thunderbird, and most recently the El Rancho on the Strip) Off-Road Race of Champions. He helped me contact a number of entertainment stars to compete in a special Celebrity Race, and then invited me to the 50th Awards Night at the Dorothy Chandler Pavilion in Los Angeles.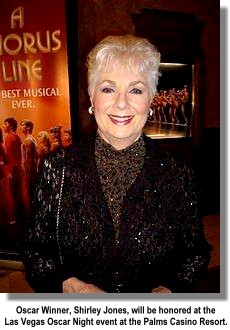 "Variety is pleased to salute Shirley, not only as a 50-year-plus Academy Award recipient, but also for an outstanding film, television and stage career," said Variety Tent 39 President and Chief Barker Kari Ayers. "Variety also will honor her lifetime commitment to charitable and humanitarian causes."
Oscar Night Las Vegas will feature free and ticketed events, including: "Red Carpet Ready" fashion shows, Friday and Sunday, Feb. 24 & 26, noon to 6:00 p.m. hourly, at Fashion Show Mall. Free Admission; Variety Tent 39 Chief Barker's Celebrity Welcome Reception, Saturday, Feb. 25, 6:30 to 8:00 p.m., in the Fantasy Suites at The Palms; Oscar Night Red Carpet, with limousine arrivals by film, television and show business celebrities, Sunday, Feb. 26, 3:00 p.m. to 5:00 p.m., at The Palms west entrance and Brenden Theatres Lobby (free admission), and the big event, the live telecast of the 84th Academy Awards, Sunday, 4:00 p.m. to 8:00 p.m., in the Brenden Theatres inside the Palms. Tickets range from $50 per person for general admission; $125 per person/$200 per couple for admission to The Celebrity Theatre hosted by Kevin Burke, star of "Defending the Caveman" and "Fitz of Laughter." There is also an after-party in The Playboy Club, with doors scheduled to open at 9:00 p.m. with a cover charge of $20 (Complimentary admission for Oscar Night Las Vegas ticket holders). For more information and online tickets check out www.VarietySN.org.
Rare Leonardo da Vinci 'Horse and Rider' Sculpture Unveiled in Las Vegas.
A never before seen sculpture by famed Renaissance artist, Leonardo da Vinci, was revealed at an unveiling ceremony held at the Las Vegas Country Club, last week.
TOP OF NEXT COLUMN
The sculpture, a bronze cast from the mold of the original wax model, was named "Horse and Rider" by world renowned Leonardo expert Carlo Pedretti. Pedretti, author of more than 50 books and 700 essays on the works of Leonardo, stated in his letter of authentication that "…this wax model is by Leonardo himself." The sculpture has been documented in several books and articles on the works of the original "Renaissance Man."
Dr. Pedretti stated that the sculpture was "possibly an equestrian portrait of Charles d'Amboise." D'Amboise, the French Governor of Milan, befriended Leonardo upon his arrival in Milan in 1508, and quickly became one of his greatest patrons. The resemblance between the sculpted rider and Andrea Solario's portrait of D'Amboise, housed in the Louvre, and produced during the same period, is remarkable.
In attendance at the unveiling, was the artwork's owner, Richard A. Lewis from Indianapolis, Ind., who stated he had two objectives for the piece. "I want to share this remarkable sculpture with the world, and raise money to help people in need." Lewis added, "To that end, I have decided to make a small number of reproductions from the original casting for sale to the public."
Also present at the event were representatives from the Salvation Army, designated by Lewis to benefit from sales of the masterworks, and experts from the American Fine Art Foundry, where the sculptures will be cast. The bronze reproductions are now on display in the Renaissance Gallery in The Shoppes at the Palazzo, for public viewing and purchase. Each work will have its own individual number and security safeguards to prevent forgery. Art Encounter, Las Vegas will provide worldwide distribution for the sculpture. For further information go to www.davincihorseandrider.com.
THIS AND THAT QUICKLY:
Went out to the Las Vegas Motor Speedway last Saturday to visit with a friend, and to see what former NASCAR Champion, Dale Jarrett, now a commentator on national TV for ESPN, had brought to the speedway for the adventurous type. It's not a new adventure, just new to the west—The Dale Jarrett Racing Adventure. This program has been operating at various motor speedways in the east for a number of years, and allows a person to drive a high performance NASCAR-style race car on a race track. That in itself is not new either, as there are all types of ride-along race car programs at the speedway, including Richard Petty's. What separates Jarrett's from the others is that a driver is allowed, and in fact encouraged, to pass another car on the track. Professional golfer, Phil Mickelson, called it "The greatest thrill on earth." Dale's brother, Glenn Jarrett, will be overseeing the Las Vegas operation. Racing packages begin at $195, and racers can choose between riding shotgun for four laps, or taking control of the wheel for 6, 10, 20, 40 or even 60 laps around the speedway's high banked 1½ mile track. All packages include a driver and safety orientation, with every driver fit for a fire-retardant racing suit, a full-faced Bell Helmet and a HANS safety device. A driver must be 18 years or older.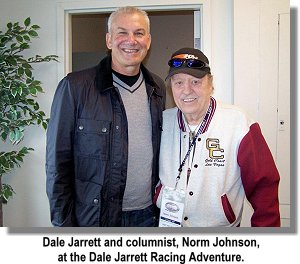 I would just like to add, that there is no bigger adrenaline producer than driving an automobile (especially a race car) at 150 to 180 mph. So, if you want to find out if you have the "right stuff," call 1-888-Go-Race-1, or visit www.racingadventure. com.

And, just a reminder that, Gary Anderson, will be at the E-String Grill, 2031 E. Sunset Rd., Monday, Jan. 30, with a special collection of musicians, for his "Tribute to Lighthouse Jazz and Howard Rumsey." The downbeat starts at 7 p.m., and reservations are strongly recommended. Call 453-8451.

Well, gang, that's about it for this week. I'm outa here!


CONTINUE ON TO...:

>It's The Norm Article Archives
>Las Vegas News - "Heard Around Town"
>Las Vegas Leisure Guide<