So, how did your New Year's Eve go? Mine was pretty nifty. We, Nancy Barr and myself, first attended the "That's Italian" show at the new Cannery East on Boulder Highway.
"That's Italian" is a show created by Frankie Randall, who was a very close personal friend of the late, great Francis Albert Sinatra. Randall, who was Vice-President of Entertainment for Steve Wynn's Atlantic City Golden Nugget at one time, was chatting with a few friends one night in Palm Springs, and the discussion turned to, "what are some of the older entertainers doing today?" A spark crossed Frankie's brain: Why not put a few guys (or ladies) together, give it an Italian title and see if we could get some work, Randall explained. "We would only work for a night or two, and the entertainers would be rotated, depending on their availability. We would not be looking for long term work, and we would always keep it within a certain group of guys or ladies." The first job was, naturally, in Palm Springs and it turned out perfect. Everyone loved it, according to Frankie.

The show at the Cannery consisted of Randall, Pete Barbutti, Dick Contino and Jerry Vale, with Vince Falcone conducting the orchestra. The Grand Ballroom seats about 1,000 for concerts, and I didn't see too many empty chairs. The orchestra was wonderful as were the entertainers. The audience seemed to enjoy the effort put forth by the five performers: Randall sang a few Sinatra hits, Barbutti did his story telling and played the piano with his nose, Contino played the accordion beautifully and Vale sang a number of his hits. The evening was a "love fest for five Italians!"
We followed that with a short drive to, Mrs. Robert (Vera) Goulet's beautifully decorated home, for a gathering of old and new friends to await the countdown to 2009. Vera Goulet is one talented lady when it comes to hosting a party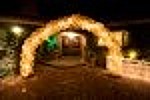 (among her many talents). She had valet service so the ladies would not have to walk very far in the chill of the evening, where a wonderful balloon entranceway greeted the guests. The trees and shrubbery (both in front and back) were beautifully decorated with lights. And, of course, the interior of the spacious home was magnificent.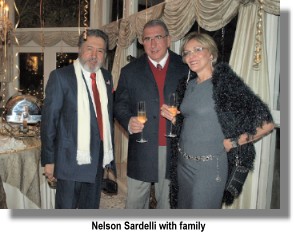 Among the more than 35 guests attending were Ms Phyllis McGuire, Jackie Brett and Mel Carter, Mike and Annie Merrick, Nelson Sardelli with his brother and wife (who had flown in from Brazil for the holidays), Vince and Annette Falcone, Paige O'Hara and her husband, Michael Piontek, Susie Perrine, Robert Goulet's drummer of many years, Santo Savino, Tony Estrada and Patrick Hutchins, and Jeanne Bavaro.
After the blowing of horns, etc., most of the revelers called it an evening and headed for home. However, a few of us gathered in the living room where the Falcone's entertained everyone-Vince on the piano and his wife, Annette, singing a few ballads.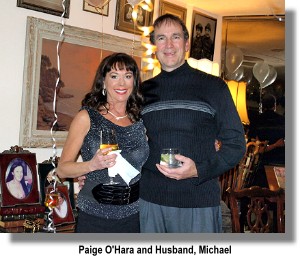 It was a beautiful evening with some wonderful friends. One this writer, and I'm sure everyone who was there, will long remember.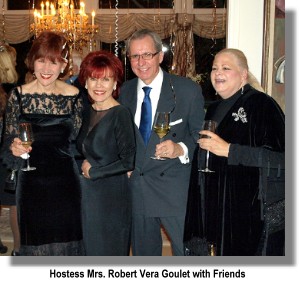 Sunday evening found Nancy and this writer driving to Mandalay Bay where the final curtain for "Mamma Mia!" was being celebrated. I've reviewed this show a number of times over the years, beginning with the original opening night show. Needless to say this final performance was an amazing event, with an audience filled with former members of the cast, other show kids, media and friends. The performers even, sorta, went "out of book," (which is to say they adlibbed a few times).
This particular evening, showed why and how "Mamma Mia!" stood the test of time. It outlasted a number of other Broadway shows that just did not quite cut the mustard. One reason "Mamma Mia!" was so successful, was the hit songs created by ABBA, from which the show was derived. Another was the strong cast maintained over its six year run at Mandalay Bay.
At the after party, in the House of Blues Foundation Room, we ran into the first mamma, Ms. Tina Walsh (who is now in "Phantom-The Las Vegas Spectacular" at The Venetian, who was chatting with Carol Linnea Johnson (the final mamma), and Michael Piontek, who was one of the original three dads, who stopped to talk with Victor Wallace (the last American dad).
"Mamma Mia!" is being replaced by "The Lion King" in April.
THIS AND THAT QUICKLY - It's only been 13 months since Pole Position Raceway first opened its doors, for those who love speed driving a state-of-the-sport Go Kart. It's become a local favorite as well as a favorite for professional racers and celebrities who are in town for various events... The Village People will be performing this Saturday (Jan 10) at Terrible's Primm Valley Resort, with show time set for 8 p.m_It was announced that Britney Spears will bring her "Circus Tour" to the MGM Grand Hotel on April 25. Tickets are now on sale through Ticketmaster... This writer made a terrible goof recently. I wrote that Bob Anderson, a buddy and great singer/impressionist, will be coming to our little village in February, and would be entertaining at Boulder Station. In reality, Anderson will be performing at the new Cannery Hotel/Casino on Craig Road in North Las Vegas February, 13-14. More on this later.
Well, gang, that's about it for another week. I'm outa here!



CONTINUE ON TO...:
>It's The Norm Article Archives
>Las Vegas News - "Heard Around Town"
>Las Vegas Leisure Guide