Man, am I anxious for this weekend. I can't wait to see a Legend Laugh Maker (aka: comedian) perform once again. This time, however, Shecky Greene will be doing his stand up routines in the beautiful showroom at Michael Gaughan's Hotel/Casino, South Point, located on the south end of the old (now new)Las Vegas Strip.
You don't just earn the title, Legend, by having a writer or a group of writers saying so. No indeed! You become a Legend by working hard at your particular craft: be it singing, conducting an orchestra, playing a violin or other musical instruments, or in the case of Mr. Greene, making people laugh.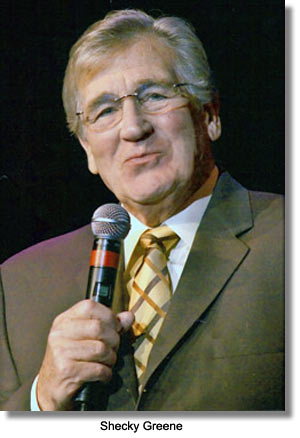 In previous columns, I mentioned some of the Legends of laughter, and I believe you will agree that Jack Benny, Bob Hope, Red Skelton, George Burns (with Gracie Allen), Milton Berle, Professor Irwin Corey, Redd Foxx and Jonathan Winters are Legends. And if you were around our little village in the '60s through the '80s, and you were able to get in to see Shecky, then you know exactly what I'm talking about. And, that's why Mr. Shecky Greene is called a Legend in his own Time—and deservedly so!
Greene is a master at story telling. And his stories are usually based around a fact: be it inventing a new word on the Johnny Carson Show (he said ka ka during an interview on the Tonight Show) and the brass at NBC called him into their office. Shecky is at his best, however, working with no restraints—like performing before a live audience in a showroom. Let me tell you right now, that Greene can do no wrong in this writers' eyes.
I have had the privilege of watching Shecky at work in the old Riviera Starlight Lounge in the '60s, to doing his publicity at the old Sands Hotel, when he worked the Copa Showroom in the late '70s. I sat and watched him, along with a few dozen big named celebrities (including Kirk Kerkorian, Robert Goulet and Kirk Douglas) when he made his comeback at the Desert Inn (I believe that was in the '90s).
Greene may begin to tell a story about his friend, Buddy Hackett, and midway, stop, and begin a new story about Bill Cosby, again stopping and going into a dissertation about his beloved mother. By the end of his 90 plus minutes (his shirt will be drenched with sweat); Shecky will actually come back and complete those unfinished stories. What I enjoy most about his comedy, is he doesn't have to use foul language to have the audience laughing. His story about an elderly gentleman having trouble with his penis is a classic. Shecky even gets his wife, Marie, into the act, by calling to her off stage for help on a story or to tell her, "See, I told you it wasn't funny," and she yells back at him sarcastically!.
Mr. Shecky Greene is, without question, a true Legend of Laughter. Showtime tonight through Sunday is at 7:30 p.m., with tickets starting at $45.00. From what I've been told tickets are expected to be all sold out by tonight. But, hey, call the box office; they might have a couple left.
While on the subject of comedy, a personal friend for more than 35 years, will be doing his stand up routine at the Comedy Stop in the Congo Room at the Sahara Hotel beginning this Monday (Jan 11) and running through Sunday. Cork Proctor, who arrived in our village a very long time ago, has not performed in a local comedy club in quite some time. Producer Bob Kephart thought it was about time Proctor made an appearance at the award-winning Comedy Stop.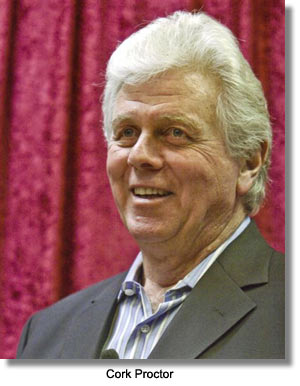 Proctor has an encyclopedic memory for names, details, and places that enable him to engage audience members on current affairs and pertinent subjects. Cork not only is a comedian, but has appeared in numerous movies and television series, has been a game show host, and is considered a master at roasting events.
Appearing with Cork will be Chris Coccia and headliner, Jay Black.
During his younger days as a comedian, Proctor brags that he was fired from just about every showroom in Las Vegas. This writer, while employed as a public relations executive at the old Thunderbird Hotel (becoming the Silverbird, then the El Rancho and now sitting idle as the Fountainbleu), even had to fire him once on orders from Major Riddle (the owner). We laugh about it now, but it was not funny having to go backstage and tell Cork that he was not going on for the second show (in those days showrooms did two shows a night). In September 1977, we had hired Cork as the opening act for Elvis Presley impersonator, Johnny Harra (Elvis had died in August), During Cork's portion of the show, the comedian made some remarks that didn't go over to well with Riddle, ending that working relationship. Proctor went on to headline all over the world. As for Harra, who at one time was known as the best Elvis on the Las Vegas Strip, we do not know what ever happened to him? Appearing with Cork will be Chris Coccia and headliner, Jay Black.
Showtime for the Comedy Stop at the Sahara Hotel/Casino is 9:00 p.m. nightly. Tickets are priced from $24.95 plus tax and fees, with a special ticket for Nevada residents priced at $19.95 plus tax and fees. For further information call (702) 737-2515.
Well, gang, that's about it for this week.
I'm outa here!
CONTINUE ON TO...:
>It's The Norm Article Archives
>Las Vegas News - "Heard Around Town"
>Las Vegas Leisure Guide<