Race fans, who've wondered exactly what transpires in the drivers' meeting prior to a NASCAR event, will get their opportunity to learn for themselves during the 2012 NASCAR Weekend at Las Vegas Motor Speedway. For the first time ever at LVMS, race fans will be able to attend the pre-race drivers' meeting for the Kobalt Tools 400 NASCAR Sprint Cup Series event. Weather permitting, the meeting will take place adjacent to the main stage in the center of the Neon Garage.

"The Neon Garage opened in 2007, and it has provided unprecedented access to all of the behind-the-scenes action within the NASCAR Sprint Cup Series garage," said LVMS President Chris Powell. "Thanks to NASCAR, we're able to take that access up another notch. This will give race fans an even deeper look into what goes on for the drivers and crew chiefs prior to a race."

"The entire NASCAR community has always worked closely to ensure that we are the most fan-friendly sport," said Steve O'Donnell, NASCAR senior vice president of racing operations. "This is another terrific example of a race track providing fans with access that is unprecedented in sports."

NASCAR Weekend is composed of the Kobalt Tools 400 Sprint Cup event on March 11, preceded by the Sam's Town 300 Nationwide Series event on March 10 and Stratosphere Pole Day on March 9. Two nights of racing at the half-mile dirt track will kick off the weekend of March 7-8 with World of Outlaws and USAC events. Race fans can obtain tickets and Neon Garage passes online at www.lvms.com or by calling 1-800-644-4444.

THIS AND THAT QUICKLY:

About 90 guests got together recently at the Belton Depot, in South Carolina, for an invitation-only celebration for Belton resident and celebrity Loretta Holloway to honor her work in music and in the community. The former Las Vegas resident, and entertainer, who is known as "South Carolina's First Lady of Song," has traveled all over the United States and the world singing jazz, and has also appeared on Broadway and in movies. Holloway, not only starred as a headliner when working in Las Vegas and Atlantic City, but was often the opening act for such superstars as Bill Cosby, Whoopi Goldberg, Jay Leno and Don Rickles, and met Queen Elizabeth in Australia after performing at the 1982 Commonwealth Games. During the celebration in Belton, Loretta received state legislature resolutions from Rep. Mike Gambrell and Sen. Billy O'Dell for her accomplishments in music, and her many contributions to the Belton area. Jazz singer Skipp Pearson, South Carolina's Ambassador of Jazz Music, was on hand for the event, as was Norman Lewis, who flew in from New Jersey to be part of the celebration. Attendee's also got to see a trailer from the movie "Rev. Scrooge," which Holloway appears in along with most of the Upstate movie cast.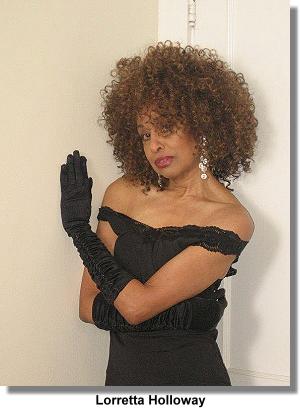 Column Continues Below Advertisement
TOP OF NEXT COLUMN
KISS® Monster Mini Golf® has announced the official opening date, March 15, 2012 in Las Vegas. The venue's grand opening corresponds with the anniversary of the original KISS® Destroyer Album, which was released on March 15, 1976. In honor of the official opening announcement for KISS® By Monster Mini Golf®, the MGM Grand's Crazy Horse Paris dancers seductively posed in the authentic Destroyer KISS boots that are touring Las Vegas.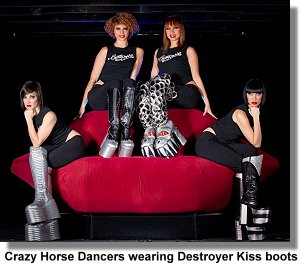 KISS® By Monster Mini Golf® is the first of its kind and will include an indoor glow-in-the-dark custom-designed, rockin' 18-hole miniature golf course, a state-of-the-art arcade, the largest KISS® gift shop in the world, A KISS® Gallery, "Hotter Than Hell" Wedding Chapel, a private VIP Room, Fantastic KISS® themed event rooms and the "Rock 'n Roll All Nite" Café.
'SPLENDOR IN THE GLASS' will be presented on SATURDAY, FEBRUARY 11th at the Las Vegas Hilton (note: now named LAS VEGAS HOTEL). This will be the 23rd year for the annual WINE & BEER TASTING event, a benefit in support of Southern Nevada Public Television/VEGAS PBS. Doors open at 3:00 p.m., with continuous tastings and live entertainment until 7:00 p.m. in the Hilton Center. Participating will be 60 wineries and breweries, all courtesy of sponsorship by Larry Ruvo and Southern Wine & Spirits of Nevada. Attending guests will receive commemorative wine glasses and unlimited opportunity to partake of vintage wines and select beers. Serving the beverages will be representatives from the wineries, and breweries, as well as knowledgeable personnel from Southern Wine & Spirits.
Tickets are on sale at all area locations of LEE'S Discount Liquors, Whole Foods Market and Total Wine & More, as well as online at www. VegasPBS.org/Winetasting, or by calling 799-1010 ext. 5361, and are priced at $75 in advance or $90 at the door.
Central Michel Richard at Caesars Palace announces the addition of Wine Director Kathryn Hope. In this new position, she will oversee the restaurant's prestigious wine collection, boasting nearly 6,000 bottles. Hope has worked in the service industry for more than 15 years. Prior to Central, she served as a sommelier at Shibuya in the MGM Grand Las Vegas, working with one of the largest sake lists in the country. In addition to her sake certification, she successfully passed the Court of Masters Sommelier exam in 2010. She's fluent in French and has studied German and Spanish.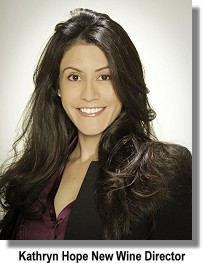 As for Central, its vast wine collection is showcased in the restaurant's distinctive, glass-encased red and white wine rooms. Central's white wine room is located to the left of the main entrance, and is accented with soft, glowing Chablis-hued lighting features. Meanwhile, the red wine room is positioned deeper inside the restaurant and boasts Cabernet-colored lighting. Both rooms have 13-foot-high ceilings and have 2,500 bottles of white wine and 3,500 of red.

Hope is delighted to join Central Michel Richard's Las Vegas location and continue to follow her dreams. For more information on Central, go to www.centralLV.com or call (702) 650-5921. Find Central Michel Richard at Caesars Palace on Facebook or Twitter (handle: @centralLV).

Well, gang, hope you enjoyed the New Year celebrations, and are looking towards a great 2012. I know I am! I'm outa here!

CONTINUE ON TO...:

>It's The Norm Article Archives
>Las Vegas News - "Heard Around Town"
>Las Vegas Leisure Guide<