Right off the bat, I want to hope everyone had a very happy and accident free New Years Eve Celebration, and that your 2010 turns out to be a winner. This year wasn't so hot for a lot of us, including a few of my friends and myself, but 2010 is definitely looking good. So, if you went out and celebrated with one thought in mind—to do something positive in the New Year, then be sure and do it! Enough said.
As for me, I went to Vera Goulet's home for her (and her late husband, Robert Goulet's) annual party. It was festive as usual and everyone left feeling warm and happy.
Last Sunday I was invited by Michaelina Bellamy, a darn good singer and one of those energy filled people of our little village, who is always out there helping one cause or another, to attend a Big Band afternoon of music at Bugsy's Speakeasy, located on the southeast corner of Sahara and Jones. This is not recorded music, gang, it's 15 guys and a gal, plus Ms. Bellamy, playing and singing the music we (me and those in my age group) grew up listening to on the radio (before TV) and dancing to.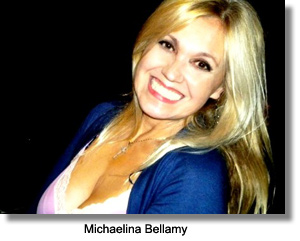 As a fellow scribe described it, "this is not amateur hour to which we have all regrettably become accustomed – no, this is the Real thing." This blond bombshell will not allow the music to fade away. Nope! Michaelina has assembled the guys who were part of the great days of the Big Bands. Today they are dentists, physicians, arrangers, bartenders or retired senior citizens. They (the 15 guys plus a gal and a girl singer) all have one thing in common—they want to make sure the music remains alive for our future generations to be able to listen to, and hear what we have had the privilege to hear today.
There is a requested (not mandatory) donation at the door of $10.00, and should you be a singer wanting to sing a song or two with the band, then bring along nine friends (you and your friends donation will amount to $100) which will pay for you to sing with the band—or you can pay the $100. But you better be a good singer, as like my friend said, this is not amateur hour.
And, I want to make this perfectly clear to one and all—this is a chore of love for the 16 members of the band and Ms. Bellamy. I got to Bugsy's just after the band kicked off its first number and I would say there were about 40 guests at the time. Over the next three hours it appeared maybe a total of 60 people stopped by to listen to a song or two. Now if everyone paid $10.00 that would amount to $600.00. That and another couple hundred would pay for the gas and maybe a drink or two for the band members. And, I saw Michaelina personally reach in her purse and toss some money into the pot. I would guess that it is costing her and her band mates a few bucks to make the music come alive every Sunday afternoon.
So, gang, if you have ever been a fan of Big Band music, or ever wondered what Big Band music is, or if you just have nothing to do on Sunday around 3:30 p.m., then get in your car, or catch a bus and head for the corner of Jones and Sahara, where you'll hear some great music being played and sung. It's worth the gas or the bus token, believe me!
Hey, gang, it's only 58 (actually it's 56 days when they arrive) days until the Boys of Thunder return to our village to race around our 1 ½ mile race track at the Las Vegas Motor Speedway.
Yep, 43 of the best drivers in the world will be here, once again, to compete in the Shelby 400 as part of NASCAR weekend, which kicks off on Friday, Feb. 26. And, guess who else will be here? You got it right if you said, Danica Patrick. Yep, Ms. Patrick is scheduled to compete in the Sam's Town 300 NASCAR Nationwide series Saturday afternoon, driving a Dale Earnhart, Jr. Chevrolet. Danica will have already competed at Daytona earlier in the month, and is also scheduled to compete at Fontana Speedway (California) a week before Las Vegas. You better grab your ticket early, 'cause I have a wild guess that the Nationwide race Saturday will have a full house, as will the NASCAR Sprint Cup race on Sunday.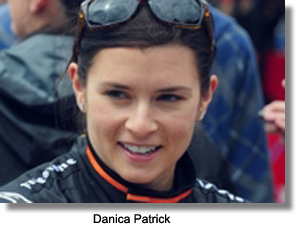 Well, gang, that's it for 2009, and I'll be seeing ya in 2010. I'm outa here!
CONTINUE ON TO...:
>It's The Norm Article Archives
>Las Vegas News - "Heard Around Town"
>Las Vegas Leisure Guide<