Visit Las Vegas Leisure Guide For More Las Vegas Hotels Information
Boardwalk Hotel Casino Las Vegas, Holiday Inn

ARCHIVED: September 18, 1995
On September 8, 1995, Boardwalk Casino, Inc. opened the doors to the new Holiday Inn, Casino Boardwalk pictured above. While construction is still proceeding on a room tower section in the rear (see below), the 33,000 square foot casino and the original, remodeled 202 rooms are open for business.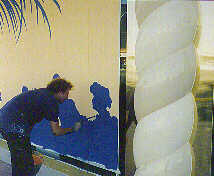 At left an unidentified painter puts the finishing touches on the front facade of the Boardwalk "Face-Lift".
At present the casino has over 400 slot machines and 20 table games (up from a previous 200 and 6 before the renovation). Further additions including the "merging" of the current "temporary" casino into the "new" casino due to be finished by the end of October will add yet another 250 slot machines. The race and sports parlor is already open for business.
The Boardwalk is the first fully functional hotel in the hottest new construction area on the Las Vegas Strip - the West side between Flamingo Blvd and Tropicana Ave. - where 3 other new hotels are under construction: New York, New York, Monte Carlo and Bellagio. Completion of the new tower in the rear (partially visible below) scheduled for March of 1996 will add an additional 450 rooms, although some of the rooms may be added sooner as they are completed possibly as soon as December, 1995.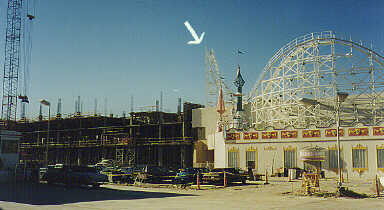 Forrest Woodward II, the President of Boardwalk Casino, delighted at the immediate favorable response of the public calls it "a fun atmosphere for our patrons as well as enhancing our image and presence on the strip".
The only disappointment we had concerning the opening after watching the construction for so many months is in discovering that all of the fun-looking rides on the roof will NOT be functional. This disappointment was further compounded when we discovered the roller coaster rider's dream finale around the left-back side (see arrow) which we couldn't resist capturing on film. Adds a whole new perspective to the old western epithet of "Riding off into the sunset". I guess they just decided the excitement might be too much for some riders...
---
For more information about The Holiday Inn Boardwalk Hotel and other Las Vegas Hotels, visit our Las Vegas Hotels Section.

If your Las Vegas hotel, casino, restaurant or establishment has new major construction, public activities (sorry, slot tournaments and bingo night don't count) or other interesting tidbits to offer, send them to us on company letterhead and if we think LVLG readers will be amazed, astounded, or even slightly interested we'll publish it. Make sure to send LOTS of pictures with written permission to publish them! We love pictures!
---
Created by PCAP; © Copyright 1995
Last Updated: September 18, 1995