Las Vegas Leisure Guide For More Las Vegas News
Barley's Casino & Brewing Company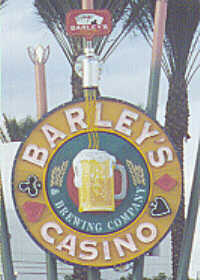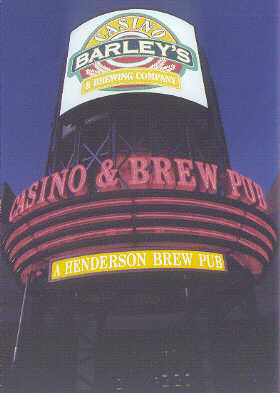 On January 18, 1996, Barley's Casino & Brewing Company opened for business on Sunset Road in the Green Valley Town Center Plaza in Henderson, just outside of Las Vegas. Barley's is the Las Vegas area's second micro-brewery and the first in Henderson. It's a little out of the way for the average Las Vegas tourist, being about 10 miles straight down Sunset, from the south end of the strip and about 2 miles from Boulder Highway and Sam's Town, but well worth it if you crave that fresh refreshing taste of home-brewed hops and barley.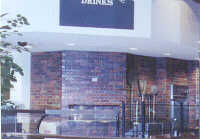 Located at 4500 E Sunset Road, Barley's consists of a 19,000 square foot multi-level, casino including a micro-brewery generating 3,000 barrels per year, a 200 seat cafe-style restaurant (with optional patio dining among the dancing fountains), 199 slot and video poker machines, 6 live gaming tables, and a 25 seat sports book visible from just about anywhere in the whole place. The restaurant area features a wood-fired oven where you can watch your meal bake. The brewery itself is displayed in all its stainless steel glory behind a fifteen foot wall of glass for all to see. Quite a conversation piece.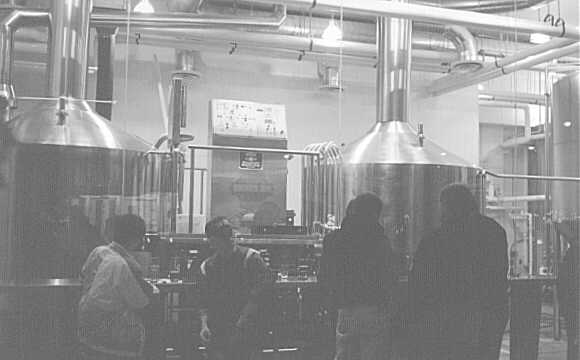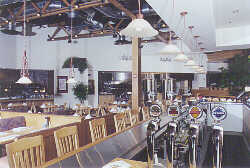 Three types of beer are brewed on-premises. Blue Diamond, Black Mountain, and our favorite, Red Rock Lager. Each requires at least 30 days to complete the brewing process. Each is named after a local geographic location. Black Mountain is a full-bodied, unfiltered dark beer, but not too heavy. Red Rock would best be described as a moderate German Oktoberfest beer. Blue Diamond is the lightest of the bunch being a full flavored German Lager. Two main types of grain are used. One, a nutty roated malt from Bavaria known as Munich Roast and the other a Two-Row Malted Pale from the Pacific Northwest. Your other standard imports and domestics are also available, but we didn't see anyone asking for them.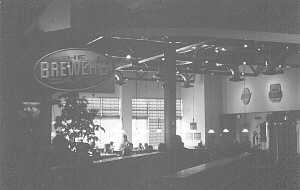 During the afternoon hours, we found the place to be comfortably populated with luncheon folk, however, come evening, the bar area was surrounded, easily five deep, with eager patrons anxious to try each of the drafts. The Brewer's Cafe restaurant features everything from burgers and fries to bratwurst and sauerkraut to filet mignon and seafood.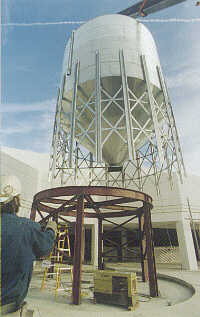 Worker directs installation of 40 ft high 134,000 pound capacity grain solo during construction.
Barley's is open 24 hours a day 7 days a week. The new property is the joint creation of Station Casinos (the people who brought you Palace Station and Boulder Station Hotel & Casinos) and Greenspun, Inc. For more information you can call (702) 458-2739.
All color pictures except front outdoor sign were contributed by Barley's. We thank them.
---
If your Las Vegas hotel, casino, restaurant or establishment has new major construction, public activities (sorry, slot tournaments and bingo night don't count) or other interesting tidbits to offer, send them to us on company letterhead and if we think LVLG readers will be amazed, astounded, or even slightly interested we'll publish it. Make sure to send LOTS of pictures with written permission to publish them! We love pictures!
---
Created by PCAP; © Copyright 1995
Last Updated: January 24, 1996