MONTE CARLO HOTEL LAS VEGAS OPENING
Archived, 6/21/96

The Monte Carlo opened to the public on June 21, 1996 at 12:01 am. There was an invitation-only (1,500) VIP pre-opening the prior day starting at 7:00pm with fireworks at 11pm. The fireworks lasted a non-stop 12 minutes. Click at left for a brief pictorial review of the fireworks.
But all is not rosy as it would seem. From inside info it looks like the only person that's actually prepared for the opening will be Lance Burton who will likely be performing for the VIP opening. Restaurant reservations are going to be quite limited the first few days as they get up to speed and the in-house micro-brewery will be open but not running at full-brew. In fact opening day, only two or three of the beers were available. We noticed hired security guards from other casinos such as the Luxor on duty and none of the six floor people we questioned could give us directions to the executive offices or public relations department.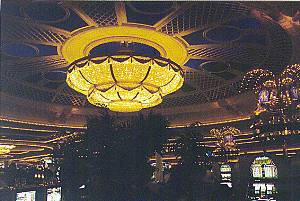 We were not overly impressed with the general ambiance. It was as if most of the old world flavor and hype was checked at the front door. Contrasted with the large-scale, beautiful architecture on the front of the hotel, the inside pales in comparison. There is a lot of empty space and large flat walls. The few fancy accouterments pictured herein were few and far between. Of all, we'd have to say the shopping area alone made us feel the most like we were strolling the streets of france, albeit the late 19th century environ of Toulouse-LauTrec or Chéret.
The Monte Carlo's marketing department had expressly decided to greatly limit interior media coverage and photos to a very limited and carefully controlled local media only and neglect national coverage, likely due to the substantially unfinished interior status. We're sorry that the national and international public had to wait until later for a full report and better pictures which we are bringing to you now. (all new details below)
---
In the center of the new, west-side, Las Vegas Strip, Tropicana-Flamingo area a new "mega-resort" is springing up. Its name is Monte Carlo Resort and it promises to become another landmark on the famous Las Vegas Strip. The new $344 Million project is a joint venture between Circus Circus Enterprises, Inc. and Mirage Resorts, Inc. both well known Las Vegas Strip property owners.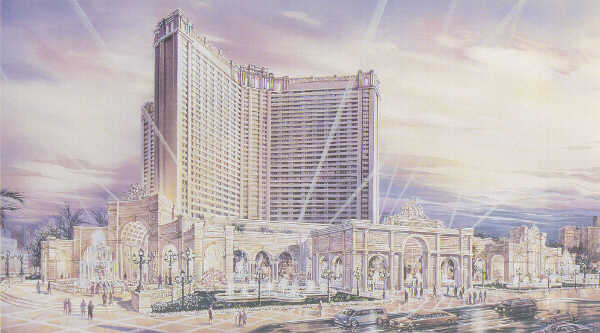 (Artist's conception supplied by Monte Carlo Resort & Casino - LVLG expresses our thanks).
The resort is modeled after the famous Place du Casino in Monte Carlo, Monaco and appropriated such features as marble floors, beautiful arches, ornate fountains and chandeliered domes. The hotel consists of just over 3,000 deluxe rooms including 256 elegantly appointed suites which are adorned with crystal and marble from floor to ceiling and include ornately framed art, comfy antique reproduction furniture and even intricate gold plated bathroom fixtures. The casino covers 90,000 feet with 2,200 slot machines and 95 table games. There will also be an incredible race and sports book, a poker room with at least 9 tables, keno and a special high-limit gaming area. And one special feature for you roulette fans is "European Style" roulette wheels with only one, yes count them, only one green "0" (a single 0, not a double 00 for you trivia buffs), thus significantly decreasing the house's odds in favor of the players.
Dining facilities are being addressed by a number of elegant restaurants, as well as a 700 seat buffet, a large 24 hour coffee shop called simply "café" and a 250 seat steakhouse. A small food court including a number of popular fast food outlets including McDonald's, Sbarro, Nathans, Hagen Daas and others is located right next to the childrens video arcade and the Micro-Brewery.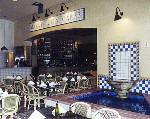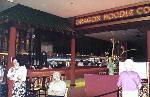 There is an Italian restaurant called the Market City Cafe (part of the popular Southern California chain) with meals in the moderate $10 range. There will also be a Chinese/Japanese restaurant called the Dragon Noodle Company for those interested in oriental cuisine. The Houdini Lounge includes posters and memorabilia from famous magicians of the past such as Houdini, T. Nelson Downs, Dante, Thurston, and others.
Other attractions will include: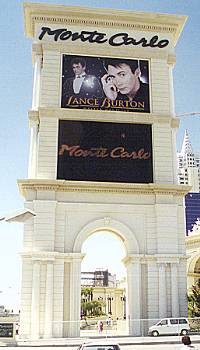 - A specially designed and built 1200 seat, Lance Burton Theatre with a lavish New York style lobby, to accommodate the World Champion Magician in twice nightly performances indefinitely. Since the theatre was built especially to his specs, expect some amazing new tricks like disappearing and flying cars and lots of audience participation. Any seat in the new theatre for either performance will set you back $34.95. Not a bad price as strip showroom shows go.
- More than 22,000 square feet of shopping.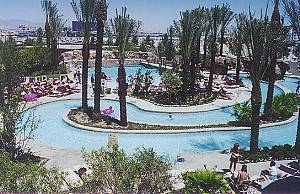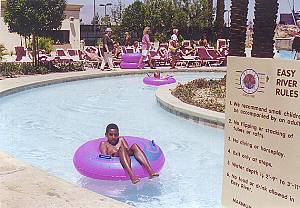 - A 21,000 square foot pool area including waterfalls, a wave pool with constantly changing wave patterns and a "Lazy River" feature. This in our opinion is among the best thought out and better features of the hotel. Although relatively small, the pools are clumped together, so that it is easy to plop from one to the next without much effort or to lounge comfortably between them. The additional feature that they are situated immediately outside of the large glass doors of the micro-brew-pub suggests a wonderful lazy afternoon repose.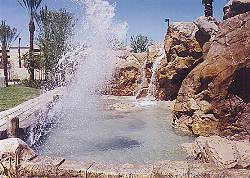 We weren't quite sure of the point of this little feature. Perhaps a nice Kodak-moment photo opportunity spot, although we didn't see any of the typical signs to that fact. Although shown here from the side, the short wooden dock is backed by a large rock motif against which wooshing pumps spray water at 10 second intervals, vaguely simulating a breakwater spray.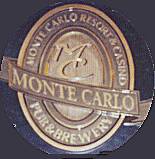 - It's own in-house micro-brewery and enormous pub promising to be possibly the largest in the nation. It will have a capacity of 1240 gallons of beer each day in 5-6 different varieties. The initial standards will be "Las Vegas Lights", a very light easy beer, "Jackpot Pale", an indio pale ale, "Winners Wheat", a sweet, unfiltered wheat ale, "High Roller Red", a complex amber ale, and our favorite already, "Silver State Stout", a traditional Irish Stout Lager. Oh, just to keep it interesting they'll also be serving daily "brewers specials", such as today's specialty, "Raspberry Wheat".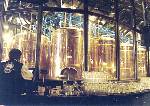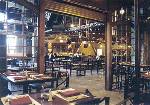 A glass of draft runs only $2.75 with a large frosty 20 oz. mug going for only 3.50! Snacks from sandwiches to light fare range from $5 - $10. Incidently the second floor video monitors offer a continuous diet of some MTV-like music video selections, great for that party atmosphere. (left: "Tanks for the Many Beers" they keep on tap; right: a wide view of just part of the charming industrial style pub)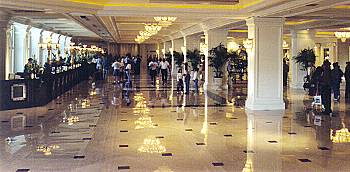 - A huge, relatively luxorious, spacey, check-in area with room enough for hundreds of conventioneers or East-coast junket riders to stand in line, with plenty of waiting and attentive, red-uniformed, bellmen anxious to introduce you to your room.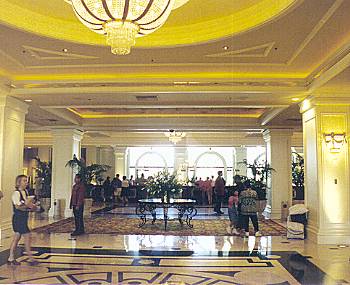 ---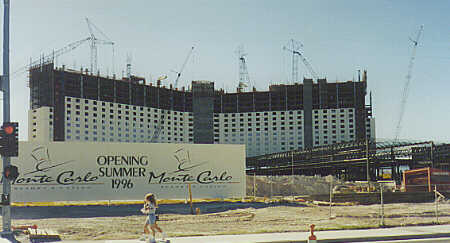 Here is a shot of the ongoing construction from mid-September. Full building height was reached in mid-December.
The Monte Carlo Casino is located on the south end of the former Dunes site. A transportation link connecting it to the new Bellagio, just north on the strip, is also planned. Stay tuned as we get more details, we'll pass them on to you.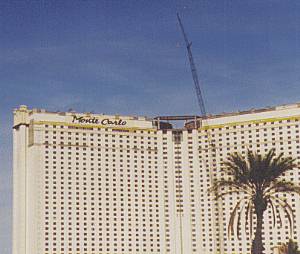 At right is what the construction looked like at the beginning of March 1996. View is of the rear wing from almost due south on Tropicana Blvd. The top has been reached and the logo sign is in place.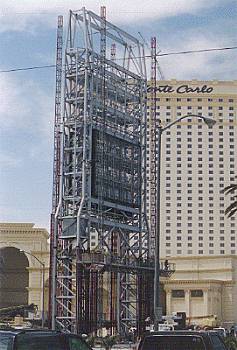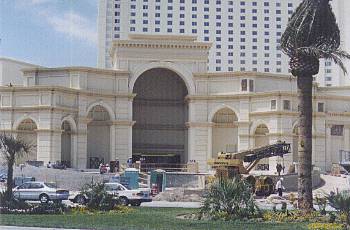 In early May this is the status of the construction. At left the marquee facing Las Vegas Blvd and featuring Lance Burton, goes up. While the front porticos on the strip are nearly complete as shown to the right above.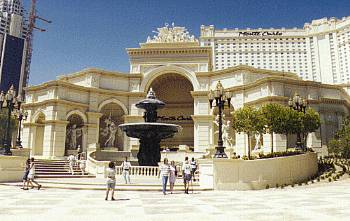 You all asked for them, here they are! To left and below many views of the final hotel as of June 21, 1996.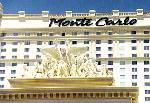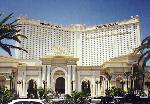 Monte Carlo hotel started accepting reservations at the beginning of 1996 and is pretty nearly booked for the rest of the summer we've been told. For more information you can call (702) 736-6000. Be sure to mention you saw them online in the Las Vegas Leisure Guide... It may not necessarily help you get better rates, but it might help us get more and better pictures for you in the future and better cooperation from the properties when they realize how many of you found out about them first here. :)