Las Vegas Shows
Concerts
Headliners
Events
Meet Joan Rivers like you've never seen her before... in An Evening at La Cage, where like it's namesake in Paris, it is a world of illusion, where things are not always as they appear.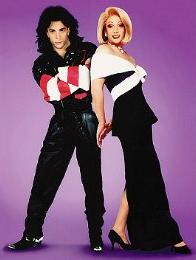 The illusions are carried off by extremely talented female impersonators, headed by Frank Marino as Joan Rivers. The caberet dancers and burlesque humor add to the excitement of seeing what appears to be your favorite stars perform right before your eyes.

From a campy rendition of Joan Rivers to incredible portrayals of superstars like Judy Garland, Whoppi Goldberg, Bette Midler, and Diana Ross, this show keeps you entertained in a tasteful albeit naughty venue of songs, comedy and dancing.



With a wide variety of talented men to perform and a wider variety of famous stars to impersonate, La Cage is always evolving and changing.

This show is one you can see it again and again and always be fascinated and amused. Even the superstars themselves stop in to see the show when in Las Vegas. If you haven't seen a female impersonator show, then get your ticket now, because this one is the best! And for the ladies, it makes for a fun bachelorette party too.