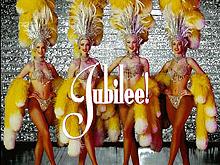 For over thirty years Donn Arden's Jubilee! has treated visitors to a spectacular floorshow of music and dance for which only Las Vegas is renown.
Gorgeous showgirls, presented in stunning costumes designed by Bob Mackie, perform on lavish million dollar sets. Talented singers are showcased among the feather laden ladies of the stage.
The dancers' incredible choreography includes eye-catching, toe-tapping musical numbers like the sinking of the Titanic to big finales which leave the audience begging for more.
This show's constant updates, keeps guests returning to the ticket booth, for a seat at the next presentation. Voted the "Best Showgirls" in town, this show is truly a Las Vegas classic!