Las Vegas Shows
Concerts
Headliners
Events
George Carlin, the ever-edgy comedian, whose humor has ranged in comparison from Jonathan Swift to Lenny Bruce, has the ability to find the funny side of the most fundamental aspects of human behavior.

He is never at a loss for words on his observations regarding politics, the media, big business, religion and language. His insights are fresh and unfailingly appeal to new generations of fans.

Carlin has been an innovator in the field of comedy becoming a major influence on other comedians. In 1972 he stepped into previously "forbidden territory" with the release of his album which contained his infamous "Seven Words You Can Never Say On TV" monologue. The controversy which resulted prompted the FCC through a Supreme Court ruling to ban certain words from TV and radio during specific hours.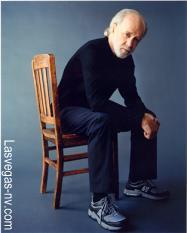 He has remained topical and adventurous and never at a loss for new material. He has written several books which have made the New York Times Best Seller List and received widespread acclaim.

Elected to the Comedy Hall of Fame, Carlin was given a star on the Hollywood Walk of Fame. He has also received Grammy Awards, starred in several films and is ranked No. 2 in Comedy Central's list of "The 100 Greatest Stand-Up Comedians of All-Time."

Don't miss your chance to see and hear this incredibly funny comedian. Purchase your tickets online now.