Las Vegas Shows
Concerts
Headliners
Events
Forever Plaid - A Heavenly Musical Hit' is a Broadway smash hit playing in Las Vegas. An entertaining musical mix of 1950's and 1960's rock n' roll, and popular show and dance tunes, blended with witty comedy has continued to delight audiences in cities across the nation. Forever Plaid is a charming story of four young men who are killed in an automobile accident, and then through a chain of bizarre events, get one last opportunity to entertain - proving that their spirits still live on.

Remember when front doors weren't locked and music had lyrics you could actually understand? This is "Forever Plaid", a funny, touching, whimsical salute back in time to a more innocent time.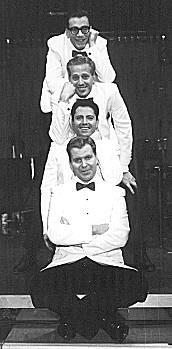 Seeing this top notch comedy, musical production is a treat to yourself. There are many "Moments to Remember" in "Forever Plaid." In fact, you just might call them "Magic Moments".

And if you're still "Undecided" about seeing this show that has rated the highest accolades from critics across the continental United States and beyond, you should just give into the "Temptation". Or you'll spend your "Day-O" "Crying."

Bob Harrington of the New York Post says "SCREAMINGLY FUNNY! Entirely enchanting, utterly entertaining, awesome! You won't find a more hilarious and captivating show either on or off-Broadway. 'Forever Plaid' will put a smile on your face, a hum in your throat and a tap to your feet. It should go on forever. "

This has been a hot show on the Las Vegas Strip for years. Their sold out audiences come looking for good comedy and hilarious gags and leave totally satisfied.

Buy your tickets online today so you won't miss this classic show.