Charo's flashy return with an international flavor at the Venetian Hotel should be around for some time. As usual, Charo is vibrant, upbeat and devastating on the "flamingo guitar." Extra cheers, applause and a standing ovation. Even I would like to see her do a few more tunes. Her dancers and musical quintet do very well. The comedy is well handled by Mario and Daniel...
The Maloof brothers, George, Phil and Joe, made a brilliant move by including, as one of their partners, Michael Morton. His nine eateries in Chicago are a gold mine and will attract the younger set here too. Besides Nine (the Morton's restaurant at the Maloof's Palms Hotel), he operates Rain and Ghost Bar...
They have style, they have grace and they all have to be 60 years and older. The 21st Annual Ms. Senior America Pageant will take place in the Imperial Theatre showroom at the Imperial Palace Hotel & Casino with the preliminary round on Wednesday, Dec. 5, and the National 2001 Finals on Thursday, Dec. 6. Tickets are just $15 for both days, with activities starting at 1 p.m. Steve Rossi is the Master of Ceremonies and "Legends" own John Stuart is assisting in production. Don't miss this fun event, call 794-3261 for tickets...
At the MGM Grand, Rosanne didn't draw flies. She helped empty the room... Siegfried and Roy had Gloria Estefan and N'Sync's Joey Fatone in their audience... A complete surprise to everyone was the smart booking of Tony Orlando into the Orleans December 21-23. Most of the town is quiet until Christmas... The Rio's Masquerade show in the sky folds early February...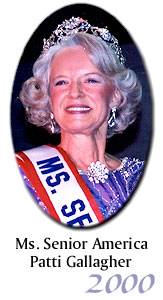 At the Don Rickles' Stardust show, a cold customer asked theatre manager John Messana if he could have a bath towel to wrap around his neck. Without batting an eye, Mr. Messana scooted over to the kitchen and personally took care of the problem. Now, THAT is service!...
"Cheval," 30 horses, including 17 breeds, and 27 artists from around the world are performing through January 6 on the "Strip" between Bellagio and Monte Carlo Hotels. This is Canada's gift to Vegas and I plan to see it next week... Affable, distinguished and dignified, Sig Rogich is back in the entertainment world. He is repping vocal impressionist Andre Phillip Gagnon...
Philanthropist, restaurateur Freddie Glusman was honored by Temple Beth Sholom as "Man of the Year," December 2. Former Mayor Jan Jones emceed with guest roasters Irwin Molasky, Henry Lewin, Mayor Oscar Goodman, Manny Cortez, Mike Sloan and others.

CONTINUE ON TO...:
>Las Vegas Entertainment Today Home Page
>Entertainment Today Article Archives
>LVLG "Heard Around Town"
>Las Vegas Leisure Guide