Dining with the amazing Rozita Villanueva Lee and her doctor husband, Clifford Lee, in the Imperial Palace's charming Seahouse, we are mesmerized by her versatility and dynamic zest for life. She has presented us with a fragrant necklace of fresh Arabian jasmines, pikake - a traditional wedding flower, which she grows. "They grow profusely in Hawaii," she says. She loves gardening. She also thrives on producing and emceeing "Drums of the Island," the authentic Polynesian revue in which she sings, dances, teaches the hula and introduces the specialty acts twice weekly in the resort's pool area. These are only a few of her talents and interests.
It all began for Rozita in the seaside port town of Lahaina, Maui. Talking about the story of her life, it is fitting that we are in a restaurant where the decor is reminiscent of a whaling town back East, somewhere on the shores of New England, perhaps a summer home in Bar Harbor, Maine, with its clapboard house look and faux windows with shutters, and ship's memorabilia. We're enjoying our sublime appetizers, oysters Rockefeller ($8.50) and Imperial crab cakes with remoulade sauce ($8.95).
Rozita's family moved to Honolulu in 1943 when she was nine. At Roosevelt High School, where the Lees will attend her 50th reunion in September, she was student body president. From there, she went to the University of Hawaii Teachers' College, where she was a class senator. "I was determined to be a teacher, but (in 1954) I got married and had three children, two boys and a girl."
"From the surf" and "from the turf" entrees, preceded by clam chowder (Cliff's choice) or a salad of mixed greens (for Rozita and us with raspberry vinaigrette), are served with vegetables and rice or a baked potato. Conversation was only a little less animated as we devoured our delicious selections, shrimp scampi ($18.95) over pasta for Rozita and with a jumbo potato topped with sour cream and chives for Cliff, sea bass Veracruz poached with bell peppers, tomato, onion and white wine ($15.50) and salmon Oscar topped with asparagus, shelled crab legs and hollandaise ($15.95), both accompanied by rice, for us.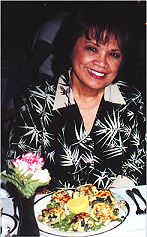 In 1989, then-Governor Bob Miller personally offered Rozita the position of special assistant, to manage his Las Vegas office. In 1995, she was named to the Nevada Clark County Asian American Commission, receiving numerous awards and certificates of appreciation from many organizations.
Her "spirit of aloha" fills the air when Hawaiian Hot Luau! "Imperial-style" heats up the Imperial Palace's 700-seat Shangri-la pool deck every Tuesday and Thursday at 6:30 pm. through October 24 (weather permitting).
The hour is late and it's time for our Seahouse desserts. Our server presents the tray with an array of gorgeous temptations ($3.95 each). The Seahouse is open Friday through Monday from 5 to 11 pm. Call 731-3311. For reservations to Hawaiian Hot Luau! call 794-3261.

CONTINUE ON TO...:
>Las Vegas Entertainment Today Home Page
>Entertainment Today Article Archives
>LVLG "Heard Around Town"
>Las Vegas Leisure Guide