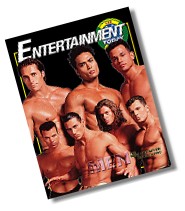 Week of September 5, 2002
Included In This Week's Issue:
Cover Story:

MEN!
Much more in our weekly print edition:

More Breaking Feature Articles
Complete Production Show Details
Upcoming Concert Dates
Lounge Performance Listings
Las Vegas Maps
Major Jackpot Winners
Popular Local Attractions Information
Resort Dining Guide
Look for us at your favorite Las Vegas venues:

Or subscribe for home delivery.



Review Past Issues in THE ARCHIVE
Stay In Touch With The

        Latest In Las Vegas

                     Every Week!

Subscribe to the print edition now
and never miss another issue!

ET The Magazine
The Best Entertainment Weekly

---
YES! Please send me
ENTERTAINMENT TODAY


_______________________________________
Name (First)            (Last)


_______________________________________
Address			Apt. #


_______________________________________
City		State	  Zip

| | | |
| --- | --- | --- |
| SAVE! | __ | $100 - Per Year (52 issues) |
| | __ | $10 - Per Month (4 issues) |
| | __ | $3 - Single Issue |
ET Travels First-Class U.S. Only

1. Print This Form On Your Printer,
2. Fill It Out
3. Send With Check To:
ET The Magazine
3110 S. Polaris Ave, Suite 27
Las Vegas, NV 89102
THIS PAGE IS FOR ARCHIVE ONLY
DO NOT SEND ORDERS
MAGAZINE IS NO LONGER PUBLISHED