Las Vegas has long been heralded as "The New Year's Eve Capital of the World." That exalted reputation was established, solidified and polished by a cadre of exceptional entertainers who know the secret of how to make every show an unforgettable celebration.
Foremost among these remarkable showmen is "Mr. Las Vegas" himself, the incomparable Wayne Newton, currently headlining at the Stardust Resort and Casino and getting ready to lead a houseful of fortunate revelers in toasting the arrival of 2002.
On the evening of December 31, Wayne will be doing what he has done countless times throughout his career - delivering the kind of blockbuster New Year's Eve show that people talk about for the rest of their lives.
In a sense, every Wayne Newton show is like New Year's Eve. This multi-talented superstar has the ability to what only a handful of performers can do - thoroughly enchant capacity audiences night after night, year after year.
This assignment would be daunting to almost any entertainer, but not Wayne. He seems to thrive on the demanding regimen, consistently giving everything he as to give as an artist and a personality.
His Stardust show has the kind of glamour and pizzazz that show goers associate with the Golden Age of Entertainment in Las Vegas, when superstar names like Frank Sinatra, Dean Martin and Sammy Davis, Jr. graced Strip marquees.
Tuxedoed, impeccably groomed and radiating good health and energy, Wayne lets his fans know they're in for a special evening from the moment he steps into the Stardust spotlight. Backed by a stylishly dressed 20-piece orchestra and four talented vocalists, he delivers more than two hours of top-quality music, comedy and happy times.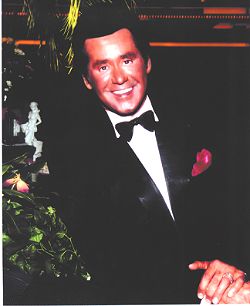 He sings many of the songs he made famous, million sellers such as "Danke Shoen," "Red Roses For A Blue Lady," "Summer Wind" and "Daddy Don't You Walk So Fast." He adds an amazingly varied selection of tunes, ranging from country to rock 'n roll to pop classics.
A master of 13 musical instruments, Newton punctuates his singing with lively turns on the piano, drums, guitar, banjo and fiddle. He coasts effortlessly through a fascinating mixture of musical moods, proving he is equally at home on a soulful ballad like "I'm So Lonesome I Could Cry" or a barnburner like "Waiting For The Robert E. Lee."
The most memorable moments of the show come when Wayne wades into his sea of ardent admirers, touring the spacious showroom to meet and greet the faithful. No corner of the Wayne Newton Theater goes untrammeled as he spends at least 15 minutes hugging, kissing and shaking hands with eager "Wayniacs."
Newton gives his audiences their money's worth - and then some. Every performance is an astonishing full-tilt tour de force from opening number to closing bow. The people who fill his theater to capacity every night arrive with the highest expectations. They are never disappointed.
The Wayne Newton show is presented every night at 9 p.m. His special New Year's Eve show will begin at 10:30 p.m. For ticket information call 732-6325.

CONTINUE ON TO...:
>Las Vegas Entertainment Today Home Page
>Article Archives
>LVLG "Heard Around Town"
>Las Vegas Leisure Guide