After long anticipation, Cock Tales is proud to present the first in a series of new productions, "A Swingin' Las Vegas Show." Lead vocalist Mark Verabian and composer Ned Mills create an atmosphere reminiscent of Las Vegas' swingin' past in the only afternoon musical show on the Strip. Conveniently located in the Trilussa Showroom on the second floor of Casino Royale, this show is sure to leave you with a warm feeling inside.
Producer David Hansen says: "Our show is unique in that you will never see exactly the same show twice. Mark and Ned have such a great chemistry on stage, which allows for spontaneous ad libing, the way shows used to be, rehearsed but unscripted. We give the audience more than what is expected, incredible music, comedic interludes, and some of the most stunning impressions ever performed."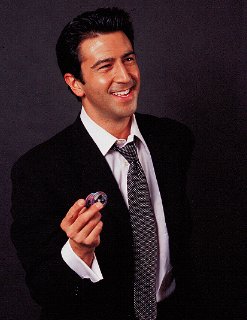 Mark Verabian is Las Vegas' newest rising star. Having performed up and down the Strip including at MGM and New York New York, Mark has found his home with Cock Tales. His vocal ability is truly incredible and his Neil Diamond / Barbara Streisand duet is a must see. Other impressions include Dean Martin, Bobby Darrin, Johnny Mathis, and many more. And if that weren't enough Mark's own captivating charm and humor is sure to win you over.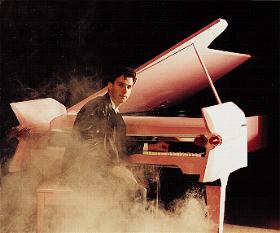 "A Swingin' Las Vegas Show" also featurs the musical talents of Ned Mills. Well known for his show Piano Follies and CD Sandcastles, Ned is a consummate performer in his own right. And as one of America's only ambidextrous performers, he plays the trumpet and piano at the same time! Ned has opened for Bobby McFerrin, coached Halle Berry, and played to sell out audiences himself.
As a performance team, Mark Verabian and Ned Mills are the best new talent Las Vegas has to offer. Come have lunch or an afternoon meal at Cafe Trilussa and then see "A Swingin' Las Vegas Show."
Cafe Trilussa offers a wide variety of authentic Italian cuisine as well as a comprehensive selection of fine wines from around the world. With its old world charm Trilussa also offers patrons the best view of the Strip with its second floor open window seating. You are likely to be greeted by the proprietor, Giuliano, who personally assures excellent service to every customer. For restaurant information call (702) 735-6407.
"A Swingin' Las Vegas Show" will be appearing at the Trilussa Showroom Tuesday through Sunday at 2:00 and 4:00 pm through December 23. Tickets are available at the Cock Tales box office located in the front lobby of the Casino Royale right off Las Vegas Blvd between Harrah's and The Venetian. Tickets are $24.95 general admission; $19.95 with coupon; matinee pricing and 1/2 price specials are also available (some restrictions apply).

CONTINUE ON TO...:
>Las Vegas Entertainment Today Home Page
>Article Archives
>LVLG "Heard Around Town"
>Las Vegas Leisure Guide