Steve Wyrick has taken magic to a new extreme on the Las Vegas Strip since he opened his $10-million production show over a year at the famous Sahara Hotel and Casino
Wyrick's elaborate show with eight dancers focuses on an adventure thrill theme with airplanes, helicopters and motorcycles appearing and disappearing on and off stage in seconds. Audiences gasp when he walks through the taking blades of a 16 foot 747-turbine engine while it is emitting 44,OOO-pounds of thrust. They marvel at the finale when he makes a twin-engine, Beachcraft Baron 58 airplane appear in a split second.
His daring "Blades of Death Challenge" has him chained to a table where he astonishing escapes from beneath six enormous spinning razor-sharp steel saws before they drop on him. This illusion was filmed in Monaco for an ABC special "Champions of Magic."
Wyrick's show is housed in the new, custom-designed $36-million Sahara Theater. The 27,OOO-square-foot industrial looking showroom is modeled after a rustic airplane hangar, complete with broken out windows and old oil barrels. Corrugated metal walls, diamond-plated flooring and sleek stainless steel bar counters also make the atmosphere a perfect setting for his aviation theme.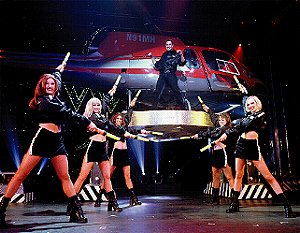 Audience participation happens throughout the show. Wyrick walks through the audience and picks unsuspecting volunteers who are visiting from all over the world to go on stage with him and become part of the show.
Wyrick has appeared in numerous television shows, toured extensively and made appearances in Japan. He also made a command performance for former President Bill Clinton at the White House. One of Wyrick's biggest thrills was being awarded the International Magician's Society "Millennium Magic" award as "Magician of the Year" for 2000.
Wyrick's performances are at 7pm and 10pm, Wednesday through Saturday, and 7 pm. only on Sunday and Monday. General admission tickets are $39.95, First Class seating is $49.95, and both are plus tax and fee.

CONTINUE ON TO...:
>Las Vegas Entertainment Today Home Page
>Article Archives
>LVLG "Heard Around Town"
>Las Vegas Leisure Guide