It isn't everyday one gets asked permission to name a sandwich, salad or dessert after oneself, but that's exactly what happened to "An Evening at La Cage" star Frank Marino. Las Vegas entrepreneur, known simply as "Happy Harry," invited a select group of local celebrities to participate in the opening of his newest restaurant and entertainment club and it will be called, what else, Happy Harry's Hot Baked Celebrity Subs, Coffee and Beignets.
Happy Harry was the owner of many well-known night clubs, restaurants, bars and celebrity sandwich haunts in northern and southern California. He came to Las Vegas ten years ago and opened the area's largest furniture liquidator outfit, which handles most of the resorts in Las Vegas. Always on the go, Harry decided it was time to do other things.
Located in the Flamingo West Plaza, half a block west of the new Palms Hotel/Casino, Harry promises his trendy venue will be the hottest thing going in town. Happy Harry's motto is "I trust everybody. I make everybody happy."
Marino mused, "Harry's naming a fruit salad after me. Natch! I love all types of submarine sandwiches, I couldn't make up my mind so being health-minded I thought the mixture of melons, pineapple, pears, peaches and of course, cherries, would be the perfect compliment bearing my name.
"The VIP/Celebrity subs will no doubt have loads of ham! I wish Harry loads of luck with his new venue, but right now I have to get a dictionary and look up 'beignet.'"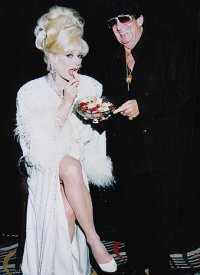 Harry reminded Marino that a beignet is a fancy name for fritter.
"An Evening at La Cage" also features Jayson Malone as Bette Midler and Judy Garland, Larry Edwards as Tina Turner and Patti LaBelle, Jon Merritt as Liza Minnelli, Steven Wayne as Cher and Celine Dion, Lane Lassiter as Michael Jackson, Chris Woods as Diana Ross and Whitney Houston and John Bloss as Reba McEntire. Jimmy Emerson performs as "Madonna's Bigger Sister" and "Tammy Spraynet." You can catch the man with a salad named after him and the whole cast at 7:30 pm. nightly, Wednesday through Monday. The show is dark (closed) Tuesdays. Tickets are $29.95 plus tax and fee. VIP seating is available, as well as dinner/show combo packages. Call the Riviera Box Office for details at (702) 794-9433 or (800) 634-3420, or click on www.theriviera.com

CONTINUE ON TO...:
>Las Vegas Entertainment Today Home Page
>Article Archives
>LVLG "Heard Around Town"
>Las Vegas Leisure Guide