Wayne Newton is celebrating his second record-shattering year at the Stardust Resort and Casino with a powerful musical offering that has the whole town talking.
"Mr. Las Vegas" appears in the beautiful showroom named in his honor in an engagement that will extend through November 8. He appears once a night at 9 p.m. Saturday through Thursday.
From his breathtaking opening number, in which he arrives in space ship, to his classic "MacArthur Park" finale, he gives his fans a dynamic evening of no-holds-barred entertainment they'll long remember.
He's never been better, never been more willing to share his awesome talents as a singer, musician, comedian and all-around showman. Newton's Homeric efforts night after night lead to the conclusion that he's out to prove his reputation as Las Vegas' greatest headliner is just as solid as ever.
In January of 2000 Newton returned to Las Vegas, his city of residence for more than three decades, and lost no time in re-establishing himself as the King of the Strip. His blockbuster performances at the Stardust showed that his visits to Branson, Missouri, and points east had only sharpened the abilities that made him our city's favorite son.
His highly acclaimed first year at the Stardust was crowned by an impressive collection of prestigious awards bestowed upon him by leading entertainment magazines. The American Gaming Association elected him to the Gaming Hall of Fame for his many contributions to the hotel-casino industry.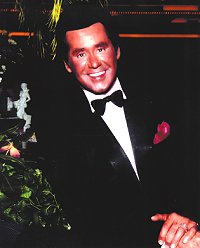 Earlier in the year he was given the Lifetime Musical Achievement Award by First Americans in the Arts, an organization that honors artists of Native American ancestry for their accomplishments. Newton, who has always expressed great pride of his Native American heritage, is one-quarter Cherokee and one-quarter Pohatan.
The current Stardust shows are vintage Wayne Newton. He proves that he is perfectly at ease with all forms of music, from pop to rock to folk to country. He dazzles showgoers with lively turns on guitar, piano, banjo and fiddle. Younger audience members are often surprised to discover that Newton has a rare gift for comedy, with timing and delivery worthy of three of his original mentors: Jack Benny, Jackie Gleason and Lucille Ball.
The 20-piece Greg Macaluso Orchestra fills every corner of the Wayne Newton Theater with swinging sounds that hearken back to the Golden Age of entertainment in Las Vegas.
For ticket information on the Wayne Newton show, call the Stardust box office at 732-6325.

CONTINUE ON TO...:
>Las Vegas Entertainment Today Home Page
>Article Archives
>LVLG "Heard Around Town"
>Las Vegas Leisure Guide