As Madonna-fever swept the nation with the "Material Girl's" first tour in years, "Legends In Concert" performer Melissa Totten has reworked her tribute with new sets and new costumes, giving audiences a fresh new look at one of the hottest music stars ever. Totten heats up the Imperial Theatre stage as Madonna twice nightly at 7:30 and 10:30 p.m., except Sundays, in "Legends In Concert" at the Imperial Palace Hotel & Casino, right in the heart of the Las Vegas "Strip."
Melissa's "Madonna" career began in 1991, leading her on tours throughout the world, including stops in New Caledonia, India, Korea, Tahiti and a special appearance for the nation's president in Thailand. In the U.S., Melissa has had the privilege of performing with Zsa Zsa Gabor in Palm Springs and in her own hometown of Chicago.
Her incredible resemblance even lead the part of body double for the "Material Girl" during the filming of "A League of Their Own," the Penny Marshall directed film about the Women's Professional Baseball League.
After joining John Stuart's "Legends In Concert," which has tribute shows around the country, Melissa made her European debut in a traveling version of the show that played in the Estrel Hotel in Berlin.
Having traveled so extensively, the one thing that Melissa believes is that "good audiences always inspire the very best performance," which is why she is happy to be performing at the Imperial Palace Hotel & Casino in front of the best audiences in Las Vegas.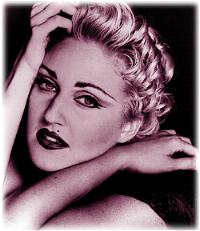 Melissa currently shares the stage along with such others superstars as the "California Kid" Ritchie Valens (Ray Anthony), the "King Of Pop" Michael Jackson (E'Casanove), Latin star Ricky Martin (Johnny Fortuno), "Mr. Showmanship" Liberace (Daryl Wagner) and, of course, the "King of Rock and Roll" Elvis Presley (Graham Patrick). As always, the "Legends" are joined by a live on-stage orchestra and there is no lip-synching.
The always-changing cast of "Legends In Concert" has kept the show fresh throughout it's 18-plus-year run, offering new and exciting talent for the millions of repeat visitors to Las Vegas. At the Imperial Palace Hotel & Casino, you never know what "Legend" you might see...but you can always count on a good time. Tickets to "Legends In Concert" are $34.50 per person, including tax, tip and two drinks. Children 12 and under are $19.50. A dinner and show package is available. For reservations, call (702) 794-3261 or toll-free (888) 777-7664.

CONTINUE ON TO...:
>Las Vegas Entertainment Today Home Page
>Article Archives
>LVLG "Heard Around Town"
>Las Vegas Leisure Guide