Come get away from it all at Splash in the Riviera Hotel & Casino!
Feel the magic that is Las Vegas come alive, as Splash's beautiful showgirls take to the stage. Narrow bands of Austrian crystal-studded satiny spandex wrapping about their statuesque forms. Glittering, glamorous jewels at their wrists and about their heads. A parade of blues, pinks, and purples. Lavish headpieces shimmering with fiber-optic fantasy light.
Experience dynamic dance routines featuring powerful phrasing covering a wide range of styles melding lighting with music and costuming in explosive opening and closing numbers. The video-pop age brought alive as Michael Jackson, Janet Jackson, Madonna and Cher tribute artists set the tone for high-energy dance numbers as well as a spectacular new series of scenes from the hit musical "Cabaret."
Laugh along with gauchos "Los Latin Cowboys" as they combine comedy with their performance of the rhythmic drumming of bombos, swinging of boleadoras, and dancing for which these traditional Argentinean entertainers are known. Sit on the edge of your seat as a most unique trio, "The Richard Brothers," juggle boxes, sombreros, and rings as well as an unforgettable routine in which they juggle three clubs while cleverly moving a hat and cigar amongst them.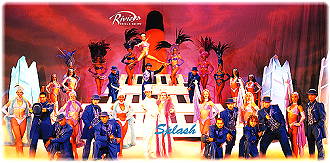 See 1998 American Open Figure Skating Pro Championship Gold and Bronze Medallists Irina Grigorian and Mikhail Panin along with World Silver Medallist Cindy Landry-Davis and 2006 Olympic hopeful Jered Guzman perform ice dance, figure, adagio and show act skating routines on a custom-designed ice rink sitting center stage.
Witness the most fear-defying act of white-knuckle terror ever: Guinness World Record holders "Bela Tabak's Riders of the Thunderdome." Four motorcycle daredevils racing about a 14-foot globe at 40-plus miles-per-hour with nothing more than nylon-mesh leathers between them and cold, hard steel.
For 90 minutes, leave the cares of the world behind. Laugh a little. Be entertained.
Twice nightly at 7:30pm and 10:30pm Sunday through Thursday the Splash Theater at the Riviera Hotel & Casino comes alive with the entertainment extravaganza Splash. All shows are topless. Must be 18 years of age for admission to Splash. For ticket information, call the Riviera Box Office at (702) 794-9433.

CONTINUE ON TO...:
>Las Vegas Entertainment Today Home Page
>Article Archives
>LVLG "Heard Around Town"
>Las Vegas Leisure Guide