The studio of Las Vegas' KMXB (94.1 FM) was the site of a recent Madonna look alike, sound alike contest, co-hosted by Riviera Hotel and Casino star Frank Marino, and Susan Hawk, one of the first round of contestants from CBS' "Survivor" reality series. Hawk had made quite a name for herself after the first "Survivor" contest ended and has since taken up residence in Las Vegas.
The grand prize for the winner was a pair of tickets to see the real "Material Girl" in her Las Vegas Labor Day weekend concerts. Marino explained, "The station invited male listeners to dress up in drag as Madonna, come in and sing one of her songs. The winner would receive two complimentary passes her to show.
"Susan and I selected a winner from the five contestants, but the station was very generous and decided to give each performer a pair of tickets for their efforts. You never saw such an excited bunch of Madonna clones!
"Meanwhile, I taught Sue how to put on make-up and she taught me how to survive in the jungle!"
Marino, starring as Joan Rivers and the MC of the world famous "An Evening At La Cage," just celebrated his 16th anniversary at the Riviera on September 18. With a ten million-dollar contract under his belt, a multi-million dollar home and another dream dwelling being built, and with a wardrobe that would be the envy of most Hollywood luminaries, let alone the royalty of the world, Marino is sitting pretty and relishing the whole situation. "Like everybody else, I came to Las Vegas to become rich, and now I am in more ways than one. I thank the public for all their love and support because it costs a lot of money to look this cheap!"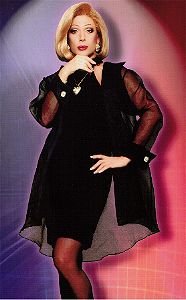 Other cast members in "La Cage" include Jimmy Emerson as Tammy Spraynette and Maddona's Bigger Sister, as well as Jayson Malone as Bette Midler and Judy Garland, Larry Edwards as Tina Turner and Patti LaBelle, Jon Merritt as Liza Minnelli, Steven Wayne as Cher and Celine Dion, Lane Lassiter as Michael Jackson, Chris Woods as Diana Ross and Whitney Houston and John Bloss as Reba McIntire.
You can catch the indefatigable Marino and the incredible cast of "An Evening At La Cage," six nights a week, Wednesday through Monday, at 7:30 p.m. VIP seating and a line pass are available. Ask about the special dinner and show combos. For tickets and more information, call the Riviera Box Office at (702) 794-9433, or click on www.theriviera.com. Frank Marino also has his own website at www.frankmarino.com.

CONTINUE ON TO...:
>Las Vegas Entertainment Today Home Page
>Article Archives
>LVLG "Heard Around Town"
>Las Vegas Leisure Guide