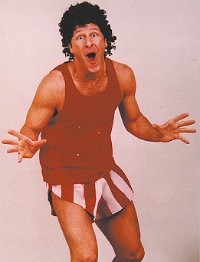 Joe Trammel AKA "The Man of a Thousand Faces," has the dubious distinction of being the first man to ever perform in "Crazy Girls" as its 14th anniversary hits at the Riviera Hotel & Casino. The Phoenix native is from a show business family. His mother was a dancer in the "Folies Bergere" and a show in Hawaii. She was an act with Wayne Newton. She also performed as a dancer in the movie "Bus Stop." His mother, Glenda Trammel, ran a dance school in Phoenix, Arizona. He said, "I was weaned on dancing. She danced up until she was six months pregnant while she was carrying me. My older sister retired from dancing to have a baby and get married. She did the movie about the `Dallas Cowboy Cheerleaders' for TV. She was from the disco era and was a spotlight dancer on "Dick Clark's American Bandstand." He exclaimed, "Non-English speaking audiences love my act because it's an international act based on pop culture. These movies are all over the world. It's visually funny and funny. I did a show in Bogota and they came to see me in Las Vegas and said they remembered me. My dream is to be on `The Tonight Show.'
Joe Trammel said, "What I do is visual physical comedy and Jerry Lewis was one of the first entertainers to start it. He would spoof popular songs of that era and culture. I do that now in a more modern way. I come from the same school as Andy Kaufman. I like to try something different. Jim Carey is another one who does my kind of thing on a grand scale. Every producer that I've worked for has given me really good input. I've improved so much over the years. I always hear that it's the most high energy act that people have ever seen. Trammel continued, "I have to warm up every night with pushups and stuff like that. I warm up like a fighter. I've go to be sweating before I hit the stage. I take vitamins and herbs to keep healthy. Doing the act twice a night is a workout within itself. I'll be doing 15 minutes in each `Crazy Girls' show.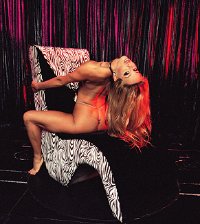 The most common question that I get is where do you get that energy. I tell them it's `you.' There's something about the crowd that pushes me to levels that I didn't think I was capable of doing. "He said, "I'll be doing all of the classic stuff that I have accumulated over the years. I've worked in Las Vegas for eight years now after seven years on the road. My favorite character is Michael Flatley of `Lord of the Dance.' I have a new act from `Planet of the Apes.' I'll be updating my act during COMDEX week while I'm off. I've added a Michael Jackson spoof along with Ricky Martin, Kevin Peach and Tom Jones."
"Crazy Girls" is the sixth longest running show in Las Vegas. Show time is 9 pm. Tuesday nights are dark (closed). Tickets are $24.95 plus tax. For more information call the Riviera Box Office at (702) 794-9433 or(800) 634-3420. Check out the Riviera's web site at www.theriviera.com. "Las Vegas' Sexiest Topless Revue" is "Crazy Girls" at the Riviera.

CONTINUE ON TO...:
>Las Vegas Entertainment Today Home Page
>Article Archives
>LVLG "Heard Around Town"
>Las Vegas Leisure Guide