The Second City at The Flamingo has been turning heads since its opening almost a year and a half ago. The show, which mixes sketch comedy and improvisation, is something this town is not used to seeing. In fact, in a town that features the same entertainers singing the same songs or doing the same tricks night after night, The Second City is the exception to almost every Las Vegas rule.
"The show we do blends classic Second City comedy sketches and improvisational games," says Second City cast member Kay Cannon. "It's easy to say that no two shows are alike because that is really the nature of improvisation. When we hit the stage each night, even we don't know what to expect."
What should have been expected are the rave reviews that the show has received since its arrival last year. Having been hailed as one of the top five shows in Las Vegas, The Second City actors take the stage inside Bugsy's Celebrity Theater and deliver a knockout performance each time. The intimate setting of the room makes you feel like you are a part of the show. Crowd participation in the form of suggestions quickly turns into some of the funniest comedy this town has ever seen. It is a truly unique brand of humor, one that The Second City has been delivering for over forty years.
The alumni list of The Second City reads like a who's who of comedy greatness: Alan Arkin, Joan Rivers, John Belushi, Bill Murray, Dan Aykroyd, Gilda Radner, Martin Short, John Candy, Mike Myers and more have all come from the stages and training centers of The Second City. The Second City has been setting the standard for comedy in North America since its humble beginnings in Chicago in 1959. It's a tradition that is not lost on the current cast members. "We all have a great appreciation for the history of The Second City," says current cast member Jason Sudeikis. "We all consider it an honor to follow in the footsteps of such comedy legends. Just looking at their pictures on the walls gives you goosebumps. We try every night to make sure that our performance would be something that they would be proud of."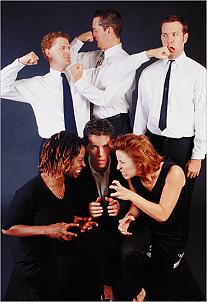 Judging by the enormous sounds of laughter coming from The Flamingo these days, it looks like they're doing just fine.
The Second City performs in Bugsy's Celebrity Theater at The Flamingo Hotel and Casino every night at 8 pm. except Thursday with additional 10:30 pm. shows on Tuesdays and Saturdays. Call the Flamingo Box office at 733-3333.

CONTINUE ON TO...:
>Las Vegas Entertainment Today Home Page
>Article Archives
>LVLG "Heard Around Town"
>Las Vegas Leisure Guide