Jackie "The Joke Man" Martling former headwriter for "The Howard Stern Show" will perform two hilarious adult-oriented shows in the Top Of The Riv of the Riviera Hotel & Casino on Friday and Saturday, September 21 & 22.
In addition to his much-heralded contributions to "The Howard Stern Show," Martling has an impressive list of accomplishments. Included on the list are appearances as himself in the Stern movie "Private Parts" and the stand-up movie "Comedy's Dirtiest Dozen," two dozen comedy recordings, four stand-up comedy videos and owner of his own production company called "Off Hour Rockers, Inc."
Martling's best selling CD titles include: "Jackie Martling The Joke Man," "Off Hour Rockers Holiday Sampler," "Jackie's Joke Button," "Big Orange Marble" and "Sgt. Pecker." His audio cassettes, which sell well, include: "Normal People Are People You Don't Know That Well," "Pet Jokes," "Holy Smokee," "Take My Wife's Fleas," "A Safer Distance From Genius," and "Hoof Hearted?? Ice Melted."
As an author, fans devoured best sellers, "Just Another Dirty Joke Book," "Raunchy Riddles" and "More Raunchy Riddles."
Occasionally on the Stern show, Martling offered the listeners a chance to "stump the Joke Man." If they came up with a joke Martling didn't know, they would win a prize. Martling continues to incorporate the routine in his hilarious act.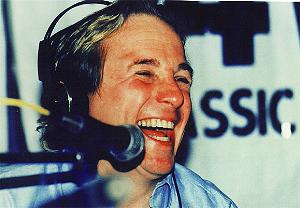 Martling takes time between his writing achievements to headline some of the top comedy clubs in the country and appears on television comedy specials including A&E's "Caroline's Comedy Hour," Showtime's "Comedy Club Network," and the Playboy Channel's "Comedy Theater." The Riviera Hotel and Casino is one of his favorite stops.
Experience the hilarious and fast-paced humor of Jackie "The Joke Man" Martling Friday and Saturday, September 21 & 22, at The Top Of The Riv at the Riviera Hotel & Casino. Showtimes are 10 pm. on Friday and 9 pm. on Saturday. Ticket price is $30. plus all applicable taxes. VIP seating and a line pass are available. For tickets or more information, call the Riviera Box Office at (702) 794-9433, or click on www.theriviera.com.

CONTINUE ON TO...:
>Las Vegas Entertainment Today Home Page
>Article Archives
>LVLG "Heard Around Town"
>Las Vegas Leisure Guide