Frank Marino paces nervously in the wings of the La Cage Theatre at the Riviera Hotel and Casino, where the smash hit "An Evening At La Cage" has been firmly ensconced. "I am trying out these new jokes tonight. If they don't work, I'll just have to go back to the drawing board. We are having a birthday on the 18th of September, as we begin our 18th sellout year.
"This is the time of year that we make changes. We lose some cast members and new kids come in. We just said a sad good-bye to our Bette Midler and Judy Garland, Jayson Malone. He's leaving show business and taking over a beauty salon.
"The new material has got to work. The real anniversary is right around the corner, so the jokes should be set by then. The birthday also marks my 20 years as a drag star."
"To commemorate my 20 years, I had commissioned a four-color poster featuring my many looks throughout the years. From an early Joan Rivers to a nowadays Joan Rivers, from a Lana Turner look-a-like to a Ru Paul impression, the poster reflects all the looks.
"It's hard to believe I've done this show for so many years! It's a record! My basic goal has always been to go out there and entertain people. I am a comedian. I'm up there telling jokes. So what if I wear a dress? I'm still a comedian and I look forward to the next 20 years doing the same basic thing...entertaining people...in heels!"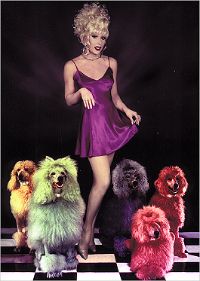 You can catch Marino and the incredible cast of "An Evening At La Cage," six nights a week, Wednesday through Monday, at 7 and 9 p.m. VIP seating and a line pass are available. Ask about the special dinner and show combos. For tickets and more information, call the Riviera Box Office at (702) 794-9433.

CONTINUE ON TO...:
>Las Vegas Entertainment Today Home Page
>Article Archives
>LVLG "Heard Around Town"
>Las Vegas Leisure Guide