Selecting the No. 1 performer in the Entertainment Capital of the World is no easy task. On any given weekend Las Vegas features a phenomenal lineup of the world's greatest singers, dancers, comedians, magicians and specialty acts.
The readers of Entertainment Today, however, were loud and clear in their choice for this year's "Entertainer of the Year" - the incomparable Wayne Newton.
Wayne is currently appearing in the beautiful showroom named in his honor at the Stardust Resort and Casino.
In honoring the legendary Stardust headliner, our readers verified what hundreds of thousands of visitors to Las Vegas have been saying for the past four decades that Wayne Newton continues to set the standards of excellence against which all his peers are measured.
In the long and storied history of show business in this incredible city, no other star has delivered more blockbuster performances than the man they call "Mr. Las Vegas."
Night after night, day after day, month after month, Wayne gives 110% of himself from the Stardust stage, enthralling capacity showroom crowds who regularly reward him with standing ovations.
An extraordinary singer, musician, comedian and master-of-ceremonies, he combines all his talents into a potent entertainment package that is completely unique. His performances more closely resemble a huge gathering of friends rather than a standard Las Vegas show.
Wayne enhanced his popularity late last year with an overseas tour that brightened the lives of thousands of men and women fighting for our country. He and his 85-member troupe of United Service Organization volunteers delivered a personal "danke shoen" to American troops in a 12-show tour of the Mideast. He has succeeded Bob Hope as chairman of the USO's Celebrity Circle.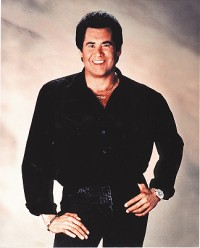 He has a lengthy relationship with the USO, entertaining the military in every conflict since Vietnam. In 1988 he received a special award for his efforts from President Ronald Reagan. His first USO performance was at age 7, when he sang for President Harry Truman.
He recently helped organize an all-star contingent of Las Vegas headliners for a four-hour extravaganza that raised more than $250,000 for the USO.
For the Mideast war zone tour, Wayne assembled a stellar cast that included Neal McCoy, Peter MacNicol, Shaggy, Jessica Simpson, the Dallas Cowboy Cheerleaders, Rob Schneider, Bo Derek, Miss USA and Ruth Pointer.
He said that he and his fellow performers wanted to show the troops "that the folks back home have not forgotten them. Our message is that America cares about its fighting men and women."
Wayne will appear at the Stardust through August 25. He appears at 9 pm. Saturday through Thursday.

CONTINUE ON TO...:
>Las Vegas Entertainment Today Home Page
>Article Archives
>LVLG "Heard Around Town"
>Las Vegas Leisure Guide