The Riviera Hotel and Casino and Marlene Ricci Enterprises are proud to welcome Trent Carlini to the Riviera's ever growing entertainment roster. Carlini will bring his "The Dream King" to the world-famous resort, playing Tuesday through Sunday, one show at 11:30 p.m. each evening, beginning June 25.
"The Dream King" is a musical tribute to the King of Rock N' Roll, as seen through the eyes of a young man, who in his dreams becomes "the King." In concert, Carlini electrifies as he recreates the magic and excitement of the Rock legend.
From early Rockabilly and Army years through a movie career and a comeback special, to his reign as the King of Las Vegas, Carlini guides you though one of the most famous career's in show business history.
Voted the "World's Best Tribute To A King," Carlini has performed to sell out audiences through the world. He has starred, in concert, with many of the King's original entourage, including The Jordanaires, Charlie Hodge, D. J. Fontana, J. D. Summner and the Stamps Quarter, Al Dvorin and Joe Esposito.
Carlini has been a former headliner with The Boardwalk Casino, "Legends In Concert" at the Imperial Palace and The Las Vegas Hilton.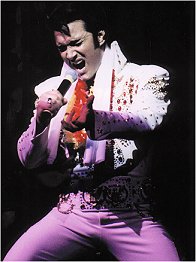 Television fans remember Carlini on "The Late Show With David Letterman," "The Tonight Show with Jay Leno," "Oprah," Leeza Gibbons and Vicky Lawrence shows, as well as "Primetime," "Nightline" and "Casesars Palace 30th Anniversary" show with Howie Mandel.
In 1998, Carlini won the worldwide competition in Montreal, for the best look, sound and performance, drawing perfect voting scores.
Tickets for "The Dream King" are $34.95 plus tax and fee. Monday nights are DARK. For reservations and further information, call the Riviera Box Office at (702) 794-9433, or 1-877-DRMKING. Trent Carlini also invites you to visit his website at: www.thedreamking.com.

CONTINUE ON TO...:
>Las Vegas Entertainment Today Home Page
>Article Archives
>LVLG "Heard Around Town"
>Las Vegas Leisure Guide