Internationally-known singer, dancer, comedienne, actress, guitarist Charo, has returned home 20 years after her headliner debut at the Sahara Hotel and Casino. The voluptuous bombshell is starring in and co-producing, "Bravo," a sizzling international revue in the Sahara's Congo Room.
The multi-talented Charo is best known for her signature move--a hip-shaking wiggle and famous phrase, "cuchi-cuchi"_lights up the stage with big blonde hair, a magnetic smile and bright colored sequined costumes. She also displays a surprising comedic talent with the ability to make fun of herself and laugh along with everyone who mocks her.
Born in Murcia, Spain, Maria Rosario Pilar Martinez Molina Baeza (aka Charo) was classically trained on the flamenco guitar at the age of nine. One of her teachers was the legendary Andres Segovia. At age 19, she began appearing as a solo artist. Among her recording credits were "La Salsa" and "Flamenco Salsa" on Capitol Records. Her first U.S. album was "Cuchi-Cuchi" from Charo & The Salsa Orchestra, on Salsoul Records, and it went platinum. The single "Dance a Little Bit Closer" became a #1 hit in clubs worldwide.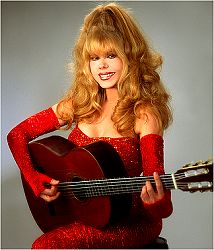 She arrived in Las Vegas in 1966, where she was discovered by bandleader, Xavier Cugat whom she married for 11 years. In 1978, she married her manager, Kjell Kasten and they had a son. Charo and Kasten left Las Vegas in 1988 and moved to Hawaii to give their son a more normal life. "I just closed my eyes to some good offers in show business. I love show business, but my family is my priority," she said. In Hawaii, she became extremely popular with the Japanese tourists who visited, and made several world tours. In the 70s and 80s, she made her mark co-headlining shows with legendary entertainers George Burns, Jerry Lewis, Buddy Hackett, Jack Benny, Sammy Davis Jr. and late night TV host Johnny Carson. Carson was so mesmerized by her that he invited her on "The Tonight Show" dozens of times.
Later she found her niche on the classic 70s series "Love Boat," where she starred on more episodes than any other star. The series enabled her to explore her musical talents as the loveable stowaway nanny, April Lopez.
Who is that "cuchi-cuchi" girl? Charo does not take that persona too seriously. She is someone who is playful and amusing on stage. Her performance is for her audience and it's all in fun. The real Charo shines when she shows-off her real talent, the flamenco guitar. "The rest is just making a living." She said, "All my life, I have felt passion for the guitar and I love to serenade everyone."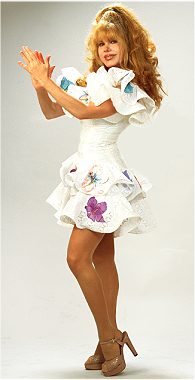 Audiences began expressing a desire for an album spotlighting her fluid finger playing, so she produce "Guitar Passion," a compilation of new style Young Flamenco, Salsa and Classical masterpieces. It was named Pop Album of the Year for a female artist at the 1995 Billboard International Latin Music Conference, and reached platinum status worldwide.
Charo has kept busy working in the recording studio and touring. In February 1997, her first dance tune since her disco hit, "Gusto" for Universal Wave Records was released. Recently she made her way into a whole new generation of fans appearing in a nationwide cellular phone commercial for Sprint PCS.
Charo is one of only few people in show business who attracts audiences young children to old and from all ethnic cultures. Today, only a few combine comedy with music and have as much fun. Charo is one of those few.
With her son completing his studies at the University of Southern California in Los Angeles, she is excited about returning to Las Vegas and the famed Sahara Hotel. It is a sentimental reunion for her. Las Vegas is the "city that never sleeps" and she enjoys its dynamic energy. Like the City, Charo is ageless and tireless. "For me, this is like a homecoming" she said. "To perform again at the Sahara is a thrill for me and I know the audiences from all over the world will enjoy all the many exciting elements that make up `Bravo'." Charo Entertainment, Inc., along with On Stage Entertainment, Inc., developed "Bravo," which has found a home in the 550-seat Congo Room. Charo is shaking things up in the Congo Room on Friday, Sunday, Tuesday and Wednesday at 7:30 p.m.; Saturday and Monday at 7:30 and 10 p.m.; and on Thursday, the show is dark. Tickets starting at $44.95 plus taxes and service charge are available at the Sahara Box Office at (702) 737-2515 and online at www.saharavegas.com.

CONTINUE ON TO...:
>Las Vegas Entertainment Today Home Page
>Article Archives
>LVLG "Heard Around Town"
>Las Vegas Leisure Guide