Comedy giant Don Rickles will be joined by songstress Lorna Luft at the Stardust Resort and Casino June 27-30.
Rickles, who has performed in Las Vegas during every one of the past six decades, has demonstrated that he has lost none of his renowned drawing power. Now in the second year of his exclusive two-year Stardust contract, he has consistently attracted capacity crowds to the Las Vegas Strip resort.
Luft will reprise much of the material she introduced on her widely acclaimed concert tour, "Songs My Mother Taught Me."
Las Vegas audiences are delighted to discover that Rickles' comedic cutting edge is as sharp as ever. His nimble mind, aggressive demeanor and patented Gatling gun delivery are on full display at every performance.
He takes pride in fashioning every show into a totally original tour-de-force, artfully blending trademark phrases and routines with instantaneous flashes of comedy genius. Rickles still stalks the stage like a panther, hilariously pouncing on members of his orchestra, the showroom staff and the audience.
His no-holds-barred style continues to be eagerly embraced because it is tempered by a sensitivity that enables him to know the exact limits of his particular approach to humor. His entire technique is based on his audiences' willingness to laugh at themselves.
Longtime Las Vegas showgoers have observed Rickles' evolution from a standup lounge comic to an all-around showman who has taken his rightful place among the city's legends.
Proximity to a show business legend will be a routine experience for Luft, whose mother, Judy Garland, ranks among the most honored and beloved figures in the annals of entertainment.
She received her first taste of show business as a youngster on her mother's TV variety series and in the Broadway revue "Judy at the Palace." This early exposure to the footlights inevitably led to a career of her own.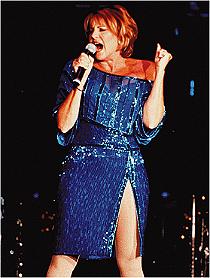 As a vocalist who inherited much of her mother's gusto and romanticism, Luft has enjoyed widespread popularity, starring in some of the world's most storied venues, including the London Palladium, Carnegie Hall and London's Royal Albert Hall. She sang for President George W. Bush at the Kennedy Center Inaugural Anniversary Gala.
She has displayed a talent for musical comedy in successful touring versions of "Guys and Dolls," Girl Crazy," "Mame" and "Grease."
Her autobiography, "Me And My Shadow, A Family Memoir," remained on the New York Times bestseller list for nine weeks. The TV movie version of the book was nominated for 13 Emmy Awards.
Her Stardust show will include songs closely identified with Garland, including "Rock-A-Bye Your Baby," "Zing Went The Strings Of My Heart," "Over The Rainbow," "The Man Who Got Away," "I Can't Give You Anything But Love" and "Born In A Trunk."
Performances at the Stardust will begin at 8 p.m. Ticket information can be obtained by calling the Stardust box office at 732-6325. Wayne Newton, who headlines the Stardust 40 weeks a year, will return July 15.

CONTINUE ON TO...:
>Las Vegas Entertainment Today Home Page
>Article Archives
>LVLG "Heard Around Town"
>Las Vegas Leisure Guide