"Siegfried & Roy Present Darren Romeo, The Voice of Magic" debuts matinees at The Mirage. Darren is being introduced as "the protege" to the most successful entertainers in the history of live entertainment. Combining an extraordinary singing voice with fascinating illusions, Romeo lights up the stage with incredible charisma.
Of Darren, Siegfried said, "Darren brings personality, charm, romanticism and youth to each show combined with the most powerful universal languages, music and magic."
Roy said, "Darren reminds Siegfried and me of ourselves at the beginning of our careers. He is a dedicated performer with an endless desire to please an audience.
Darren Romeo is no stranger to show business. A magician since the age of nine, Darren Romeo introduced singing to his award-winning performance during his high school years. Peers coined the phrase "the Voice of Magic" by the time he was 16.
Romeo received national acclaim as the youngest person to ever star in the off-Broadway production of "The Fantasticks." In 1996, Romeo left New York for Las Vegas to fulfill his dream and did. He directed, performed and starred in his one-man show, which was called "the most unique and compelling show to hit the Strip in many years." A mutual friend introduced him to Siegfried & Roy soon thereafter and casual conversations about Darren's talents resulted in the professional merging of Siegfried & Roy and Romeo. The result is the launching of a new star.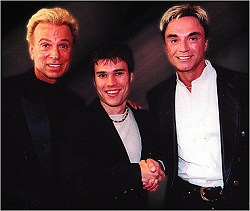 "We are delighted to welcome Darren into The Mirage family," said William P. McBeath, president of The Mirage. "Siegfried & Roy have been integral parts of our family for more than a decade. When they introduced us to Darren, we saw immediately why they believe he is the star of the future. We agree and look forward to introducing all of our guests to this new experience."
Romeo will perform matinees in The Mirage in the Siegfried & Roy Theatre Tuesday through Saturday at 3 pm. Tickets, $30 including one drink, tax and gratuity, are on sale now at The Mirage Ticket Office or by calling Mirage Reservations toll free at (800) 963-9634 or (702) 792-7777 or online at www.mirage.com.

CONTINUE ON TO...:
>Las Vegas Entertainment Today Home Page
>Article Archives
>LVLG "Heard Around Town"
>Las Vegas Leisure Guide