A pinch of Basile turns the ordinary into the extraordinary! Basile's spicy blend of improvisation and characters make for a great recipe for everyone's entertainment pleasure. Basile has just released his new CD "Basile Unleashed" and has become one of the hottest comedy acts in the country today!
Experiencing Basile "unplugged and in concert" is like walking through a series of doors in the hall of hilarity. He opens the door to his show with what many call "the funniest opening bit in stand-up comedy!" Then he slams the door shut and guides you on a journey through a series of wild, silly and outrageously funny revolving doors. Basile is headlining at The Comedy Stop at the Tropicana, through January 27, at 8 (non-smoking) and 10:30pm., nightly. Appearing with Basile, for the week, are fellow comedy headliners Kevin Downey, Jr. and Cynthia Koury.
Bang - you laugh. Pow - you grab your sides. Crunch - you try to catch your breath. And then while still dizzy from the hilarious whirlwind, Basile will delight you as he opens the last door to his show that leads to a powerfully performed musical number ending with you on your feet. Alas, the last door does close, but the laughs and cheering continues. Off stage, Basile's career is also like a revolving door. He has gone from film (HBO's "Vietnam War Stories") to radio (four time ADDY winner) to commercials (Moosehead Beer) to TV (NFL, Today on CBS) to writing (US Air's Entertainer Magazine) back to radio (The Rick Dee's Weekly Count Down and the James Brown / OJ Simpson Trial updates) to cartoon voices (Universal Studio's "Bullwinkle J. Moose") back to TV (HBO's "First & Ten") and then back again to comedy on TV (A&E's "Comedy on the Road," "Caroline's Comedy Hour," Comedy Central, Showtime's "Comedy Club Network," Ed McMahon's "Star Search," MTV's "Half-Hour Comedy Hour".. never mind, you get the picture... it just doesn't end!
Kevin Downey, Jr. sounds like a normal enough name, but the person is a different story. His unique appearance, fast wit and explosive stage presence puts him in a category all by himself. He has the ability to see life from a different perspective and talks to the audience about some of life's absurdities which most of us just over look. "My girlfriend is pro-life," Downey muses. "She thinks I should get one!" Downey has been seen on Comedy Central, The Toyota Comedy Festival, The San Francisco Comedy Competition and was a special guest star on Robert Klein's new television show "New Joke City."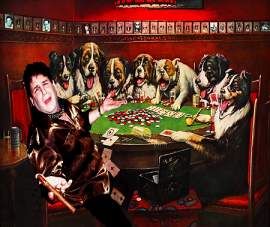 Cynthia Koury is a welcoming voice in the comedy world. The New York Times certainly thinks so calling her, "a real pro." Koury is based in New York where she performs regularly at comedy clubs such as The Comic Strip and The Comedy Cellar. Her travels have taken her to clubs, colleges, and corporate events, across the country including, The Kennedy Center in Washington DC, The Comedy Stop in Atlantic City, and The Laugh Factory and The Comedy Store in Los Angeles. Also an accomplished actress, Koury has numerous New York and London theatre credits. She is one of the founding members of the popular sketch comedy group, "Pop. 10" which she still performs with regularly. She made her television sketch debut on "The Chris Rock Show."
Join Basile, Kevin Downey, Jr. and Cynthia Koury for an evening of hilarious laughter, through January 27, at 8 (non-smoking) or 10:30 pm. Tickets are $17.50 per person, which includes tax, gratuity and two drinks. Thursdays are local 2-4-1 nights. Show your local I.D. and receive two tickets for the price of one!
A three time winner of Atlantic City Magazine's "Best Place to See a Rising Star" award and a three time winner of the Review Journal's "Best of Las Vegas" award and two-time winner of Entertainment Today's Tourist Top Choice Award for Best Comedy Club, The Comedy Stop at the Tropicana offers the best comedy at the best price in Las Vegas!
For further information and reservations, please call (702) 739-2714.

CONTINUE ON TO...:
>Las Vegas Entertainment Today Home Page
>Article Archives
>LVLG "Heard Around Town"
>Las Vegas Leisure Guide