More resorts. More variety. More convenience. More fun. Park Place Entertainment Corporation (NYSE: PPE), the world's largest gaming company, announced today that it will unify all its casino player loyalty clubs under a single, new, umbrella program - Park Place Connection.
The new program debuted on Jan. 8, 2002, with cash-back bonuses at the company's five Las Vegas destination resorts: Caesars Palace, Bally's, Flamingo, Paris and the Las Vegas Hilton.
"With Park Place Connection, we're giving our customers yet another reason to experience all our resorts and to become personally acquainted with the remarkable range of benefits and incentives that can only come from a large, diverse resort enterprise. In our case, bigger is definitely better for our customers," said Park Place Chief Operating Officer Wallace R. Barr.
Often compared to frequent flyer programs, the casino players club rewards customers for their patronage - offering points in proportion to amounts wagered. Based on points earned while playing slot machines, members are eligible to receive cash rebates, in addition to any casino winnings. The coin-in required to earn a point is determined by each resort. Slot machine and table game players also receive complimentary hotel, dining and showroom privileges, special rates, discounts and event invitations from the individual Las Vegas resorts, based on their play.
The Park Place Connection card can be easily inserted into slot machines at any of the company's Las Vegas casino resorts. The machines' card readers will instantly recognize the customer and award points for casino play, automatically linking points earned at any of the other four Park Place resorts in Las Vegas. Aggregating points enables players to earn rewards faster by combining their play from multiple PPE properties.
Guests will sign up in the Park Place casino of their choice and receive a Park Place Connection card. Patrons can redeem cash-back bonuses, based on their total Park Place Las Vegas casino play, at any of the five resorts. The new Park Place Connection program combines the popular Caesars Emperors Club, the Bally's MVP Club, the Flamingo Players Club, the Hilton Barron's Club and the Club Paris programs. Guests who enjoy playing at several resorts will no longer find it necessary to enroll in five casinos, juggle five cards or run around to redeem their cash-back.
"We want our guests to enjoy their resort experience and let us do the accounting," said Barr. "Our research shows significant cross-property patronage among our Las Vegas resorts. We want to make it easier for the player to realize all the benefits of playing at Park Place properties by linking their rewards."
The company's Las Vegas casinos will continue to offer preferred customers resort complimentaries, invitations to tournaments and special events, special hotel room rates and seasonal promotions - each tailored to the resort.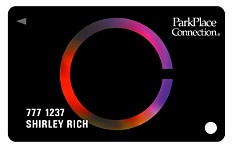 Park Place Connection represents the company's latest effort to offer added convenience to customers of all of its Las Vegas casino resorts. Park Place currently offers cross charging privileges, enabling Las Vegas hotel guests to sign and charge meals, beverages and merchandise at any of the properties to their host hotel account. The company also offers hotel guest registration at McCarran International Airport for all five of its Las Vegas properties.
Celebrating the debut of the Park Place Connection program, the company's five Las Vegas resorts - Bally's, Caesars Palace, Flamingo, Paris and the Las Vegas Hilton - will give every Connection member a free entry to win a VIP Fantasy Sweepstakes, offering five grand prize VIP Fantasy vacations for a winner and seven guests. Prizes at each of the five resorts include: (for the winner) four days and three nights in an ultra-luxurious suite (Caesars Palace is offering the "Rain Man" suite. The Las Vegas Hilton is offering a 10,000 sq. ft. sky villa, as shown on ABC 20/20 by Joan Lunden.) Winners' guests will receive four days and three nights' accommodations in deluxe guest rooms. Winners and guests will receive round-trip U.S. air transportation, limousine service to and from McCarran International airport, VIP check-in, and all five winners will see their names on the giant center-Strip marquee at Bally's. The fantasy grand prizes will include additional one-of-a-kind experiences. Bally's is offering its winner a walk-on role in the stage spectacular "Jubilee!" The Flamingo is offering king's row seating for a Gladys Knight headliner performance, with a special song dedicated to the winner.
All five winners and their guests will be honored in a special exclusive party. Paris will offer its Eiffel Tower observation deck to hold a party for the eight honorees. Caesars Palace will hold a Roman-themed party for its eight special guests in the two-story suite used by Dustin Hoffman and Tom Cruise in the Oscar-winning movie "Rain Man."
Everyone who receives a Connection card through March 29 will receive free entry to win $500 cash, dinners and other special prizes in 7 pm. drawings at all five resorts. Players will receive an additional entry for every 20 points earned (up to a maximum 50 entries per day). Daily drawing winners must be present to win. Daily winners will be entered into the grand prize drawing, scheduled on March 29. The five grand prize winners need not be present to win.

CONTINUE ON TO...:
>Las Vegas Entertainment Today Home Page
>Article Archives
>LVLG "Heard Around Town"
>Las Vegas Leisure Guide