As the audience piles in, the first thing they notice is the size of the showroom - a tiny, intimate venue with a small stage and lines of chairs inviting them to sit in close quarters and prepare for the show. The music is popular and appealing and people can be spotted right away singing along. Then the lights dim...
The four beautiful showgirls appear from seemingly out of nowhere surrounded by rings of light. Incredible choreography, tantalizing outfits and beautiful women appear to be the fare for the evening, but that's not all...that's when the magic begins!
The stage is so close to the crowd that immediately, the audience begins a series of "ooohs" and "aaahs" as each illusion unfolds right in front of their eyes. Unlike the larger venues and showrooms, it's not all "smoke and mirrors" as they say - now it's truly head-scratching, "how did they do that?" magic!
The Showgirls of Magic proceed to charm and delight by inviting an unsuspecting and, oftentimes, reluctant, member of the audience onstage to become part of the show. This act is a great crowd-pleaser that is sure to make you laugh!
In addition to the surprisingly up-close and personal illusions, a treat that you don't often see in a magic show, there is also a fair amount of variety to keep the show moving. Variety is the spice of life and the Showgirls of Magic sure have that spice!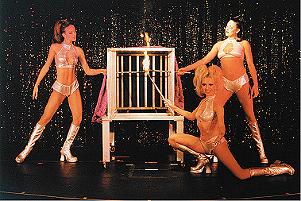 The illusions are accented by interludes that not only throw back to Vaudeville times such as The Great Antoine and his comedic brand of magic but also play on modern, progressive themes. Guest comedians, world-class acts and feature magicians appear regularly to add to the excitement.
The second half of the show is just as fast-paced and exciting as the first and the showgirls continue to amaze the audience by disappearing, levitating, slicing each other with swords and many other mind-boggling illusions.
It's easy to see why this show is billed as "The Biggest Little Show in Town," because the Showgirls of Magic has everything that makes up a great Las Vegas show. This is a must-see gem of a production that is guaranteed not to disappoint you!
Experience the magic, music, comedy and dance at the "biggest little show in town" with beautiful ladies of illusion and comedic variety. Show times are 8 pm. for all ages and 10:30 pm. for the 21 and over crowd on Tuesdays through Sundays (dark Mondays) at the Hotel San Remo. For reservations and price information call (702) 597-6028.

CONTINUE ON TO...:
>Las Vegas Entertainment Today Home Page
>Article Archives
>LVLG "Heard Around Town"
>Las Vegas Leisure Guide