Exclusive to Caesars Palace, since 2003, Elton John began creating Las Vegas music magic with his iconic show "The Red Piano" in the Colosseum which extended into a 5 year stay through early 2009. Now, starting in 2011, Elton John is back in Las Vegas with a new 3 year gig in the same hallowed theater. The new version of his show is called "The Million Dollar Piano" named after the half-piano, half-video-screen which took Yamaha 4 years to develop especially for the show. This distinctive show blends together Elton John's incredible music and showmanship with vibrant visual imagery to create a show unlike any other Elton John has performed.
The show is new, displaying myriad images from stills to vintage music videos on the built-in video screen in unison with the music created to give the audience a wonderful new, perspective of Elton John and Bernie Taupin's most memorable compositions. Yet all the favorite old hits are still there as popular as ever among fans along with newer ones from The "Lion King" and music from the smash hit "Billy Elliot".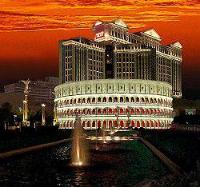 Performing along side Elton are his highly talented band members: Davey Johnstone on guitar; Guy Babylon on keyboards; Bob Birch on bass guitar; Ray Cooper on percussion; and Nigel Olsson on drums. along with two new cellists and four female backup singers including Rose Stone from the original Sly and The Family Stone.
Elton John's career is legendary. His albums have gone double-platinum and he holds the record for the top-selling single of all time with "Candle in the Wind". He has received multiple Grammy Awards including the Grammy legend Award.
Elton John's show fills the Colosseum on the various times through-out the year when Celine Dion's show is on hiatus. If you want to see and hear the top singer / songwriter / musician of the past four decades, in Las Vegas, then get your tickets today. They sell out fast!