Las Vegas Shows
Concerts
Headliners
Events
Clint Holmes has been voted the "Best All Around Entertainer in Las Vegas". His must-see show is composed of a unque blend of vocal style and improvisation. More than a singer, Clint Holmes makes every performance an original with his stage magnetism and upbeat persona.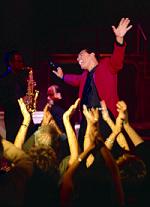 Accompanied by his hand-picked 12 piece orchestra, Clint Holmes shows you what a real Las Vegas headliner is all about and leaves his audiences craving more. As one of Prince Albert's favorite entertainers, he jets off to Monte Carlo every summer at the Royal Family's request to appear at the Sporting Club, Hotel Paris, and other European nightclubs.

Be sure to catch the best ticket in the house by ordering online now.